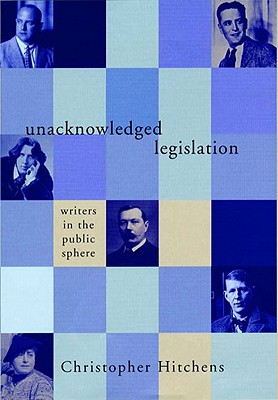 Unacknowledged Legislation (Hardcover)
Writers in the Public Sphere
Verso, 9781859847862, 432pp.
Publication Date: March 17, 2001
Other Editions of This Title:
Paperback (1/17/2003)
* Individual store prices may vary.
Description
A celebration of Percy Shelley's assertion that 'poets are the unacknowledged legislators of the world', these thirty-plus essays on writers from Oscar Wilde to Salman Rushdie dispel the myth of politics as a stone tied to the neck of literature; Norman Podhoretz's 'bloody crossroads'. Instead Hitchens argues that when all parties in the state were agreed on a matter, it was the individual pens that created the space for a true moral argument.
About the Author
Christopher Hitchens is a contributing editor to "Vanity Fair" and the author of the best-selling "God Is Not Great." His books published by Verso include "The Trial of Henry Kissinger," "No One Left to Lie To," "The Missionary Position," "Unacknowledged Legislation," "The Parthenon Marbles," "Hostage to History," and more.
Praise For Unacknowledged Legislation: Writers in the Public Sphere…
"Hitchens's writing is tough, heartfelt, coruscating, funny ? and imbued with the understanding that the task in hand is an important one."—The Times

"I have been asked whether I wish to nominate a successor, an inheritor, a dauphin or delfino. I have decided to name Christopher Hitchens."—Gore Vidal

"A Tom Paine for our troubled times ... He picks up the sword and mantle of E. P. Thompson, and carries them off with swashbuckling impertinence, valiant for truth, last in the line of English gentlemen-intellectuals."—Independent

"Unacknowledged Legislation is a big, handsome book containing some of the best, most polished and wittiest writing you are likely to encounter this or any other year ... Gore Vidal should be so lucky to have this boy for an heir."—John Banville, Irish Times

"Christopher Hitchens is indeed hit-man to the intelligentsia. If there is an inflated ego to puncture, he has the red-hot needle to do it."—Sunday Times

"Lionel Trilling once observed in his diaries that, to his genuine surprise, he was no longer simply a critic of literature but had become a fact of literature himself ... Christopher Hitchens, political and literary journalist extraordinaire, should now be considered a fact of political and cultural reality. His astounding capacity for work has produced a body of work; his vastly ranging, deeply driven devastations and illuminations make up a reliable outlook on the world."—Lee Siegel, Los Angeles Times

"He is a loose cannon, a sharp wit, an ironist, a polemicist of exceptional talent, and editor's dream."—Times Literary Supplement
or
Not Currently Available for Direct Purchase