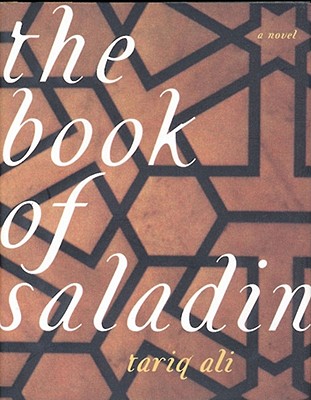 The Book of Saladin (Hardcover)
Verso, 9781859848340, 368pp.
Publication Date: October 17, 1998
Other Editions of This Title:
Paperback (11/17/1999)
Paperback (7/7/2015)
* Individual store prices may vary.
Description
The Book of Saladin is the fictional memoir of Saladin, the Kurdish liberator of Jerusalem, as dictated to a Jewish scribe, Ibn Yakub. Saladin grants Ibn Yakub permission to talk to his wife and retainers so that he might present a full portrait in the Sultan's memoirs. A series of interconnected stories follows, tales brimming over with warmth, earthy humor and passions in which ideals clash with realities and dreams are confounded by desires.

At the heart of the novel is an affecting love affair between the Sultan's favored wife, Jamila, and the beautiful Halina, a later addition to the harem. The novel charts the rise of Saladin as Sultan of Egypt and Syria and follows him as he prepares, in alliance with his Jewish and Christian subjects, to take Jerusalem back from the Crusaders. This is a medieval story, but much of it will be uncannily familiar to those who follow events in contemporary Cairo, Damascus, and Baghdad. Betrayed hopes, disillusioned soldiers and unrealistic alliances form the backdrop to The Book of Saladin.
About the Author
Tariq Ali is a writer and filmmaker. He has written more than a dozen books on world history and politics--including "Pirates of the Caribbean," "Bush in Babylon," "The Clash of Fundamentalisms" and "The Obama Syndrome"--as well as five novels in his Islam Quintet series and scripts for the stage and screen. He is an editor of the "New Left Review" and lives in London.
Praise For The Book of Saladin…
"The Book of Saladin is the second in a quartet of novels by Tariq Ali on the long encounter between Western Christendom and the world of Islam. Grippingly well told, brilliantly paced, remarkably convincing in its historical depiction of a fateful relationship, it is a narrative for our time, haunted by distant events and characters who are closer to us than we had dreamed."—Edward Said

"Ali overturns demonising stereotypes of Salah-al-Din, portraying instead the 'barbarian' Western invaders. Whether depicting erotically charged harem intrigue or siege warfare, The Book of Saladin is an entertaining feat of revisionist storytelling."—Simon Carnell, Sunday Times

"Ali's new historical novel ... is told in a manner which combines the incantatory storytelling of the great Middle Eastern anthologies with the solidarity of historical research."—Philip Hensher, Mail on Sunday

"Fiercely lyrical. Weaving political intrigue, gay and straight love, betrayal, cross-dressing, rape, assassination and crimes of passion, Ali's tale ripples with implicit parallels to our age."—Publishers Weekly
or
Not Currently Available for Direct Purchase