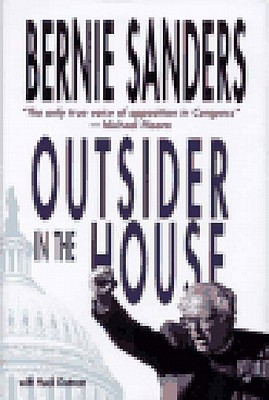 Outsider in the House
Hardcover

* Individual store prices may vary.
Other Editions of This Title:
Paperback (9/17/1998)
Description
Is progressive politics possible in the United States today? Can a democratic socialist take on the two-party system to win a seat in Congress? Bernie Sanders is the first Independent elected to the United States House of Representatives in 40 years. Running primarily on class issues, he successfully put together a coalition of working people, the elderly, the poor, women and environmentalists. Once in Washington, Sanders helped found the House Progressive Caucus, the 52-member group that recently provided the major opposition to Newt Gingrich's reactionary "Contract with America."

Outsider in the House gives the inside scoop on Sanders's discussions about class politics with Bill Clinton in the Oval Office, his battles with the often Byzantine politics of the House floor and his encounters on the campaign trail in Vermont. It provides a penetrating critique both of a growing rightward movement in US politics and the failure of the two-party system to represent working people in America. Scrutinizing the battles on the Hill and across the nation over welfare reform, health care and NAFTA, Sanders lays bare the powerful forces which have produced the most inequitable distribution of wealth in American history. But he outlines, too, the positive role that Congress could play in protecting working Americans by introducing an Alternative Budget which would slash military spending and corporate welfare and use the savings to rebuild America's human and physical infrastructure.

Here, in a passionate and personal voice, is the story of one man's battle against the chimerical choice presented by the Republicans and Democrats. Others must follow the path that Congressman Bernie Sanders has taken before US democracy can be revived. Outsider in the House is a compelling signpost for that most difficult of political journeys.
Praise For Outsider in the House…
"Outsider in the House is a rare achievement: a concise, compelling book that tells an interesting story and provides a readable, down-to-earth blueprint for progressive change."—The Onion

"A clear, compelling and comprehensive vision for reinvigorating democracy, reducing poverty, rebuilding the middle class and restructuring our health care and education systems. Sanders gives us a vision of the day when 'we will no longer be outsiders in the House.'"—In These Times

"A grass-roots 'how-to'—guide, especially helpful and inspirational for prospective independent candidates—a firsthand description of the career of the most successful American socialist politician in modern times."—The Hill

"A road map for how progressives can win elections and not be part of the two party duopoly."—Ralph Nader

"Bernie Sanders speaks for me—he is clear, and he votes with conviction and morality."—Susan Sarandon

"Good insight into the day-to-day concerns of a man who has successfully brought the 'big' questions into the world of 'practical politics' that normally grinds all issues into trivialities and quips."—San Francisco Bay Guardian

"In an age when states are racing to the bottom to see who can build more prisons and throw more families on welfare, Vermont stands as an example of government on a humane and human scale—if you still believe in a progressive and democratic future for America, get this book and learn from someone who is fighting for that future."—American Reporter

"The only true voice of opposition in Congress."—Michael Moore, TV Nation
Verso, 9781859848715, 244pp.
Publication Date: June 17, 1997
About the Author
Bernie Sanders was elected to the U.S. Senate in 2006 after serving 16 years in the House of Representatives. He is the longest serving independent member of Congress in American history. Early in his career, Sanders was director of the American People's Historical Society. Elected Mayor of Burlington by 10 votes in 1981, he served four terms. Before his 1990 election as Vermont's at-large member in Congress, Sanders lectured at the John F. Kennedy School of Government at Harvard and at Hamilton College in upstate New York.

Huck Gutman, a long-time political collaborator of Sanders, is Professor of English at the University of Vermont.
or
Not Currently Available for Direct Purchase