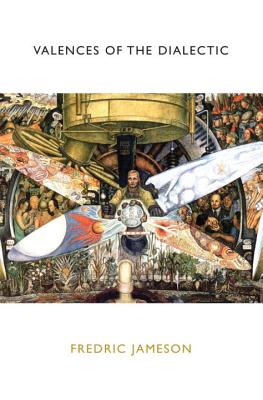 Valences of the Dialectic
Hardcover

* Individual store prices may vary.
Other Editions of This Title:
Paperback (11/8/2010)
Hardcover (1/17/2001)
Paperback (5/17/2002)
Description
After half a century exploring dialectical thought, renowned cultural critic Fredric Jameson presents a comprehensive study of a misrepresented, vital strain in Western philosophy. The dialectic, the concept of the evolution of an idea through internal contradiction and conflict, transformed two centuries of Western philosophy. To Hegel, who dominated nineteenth-century thought, it was a metaphysical system. In the works of Marx, the dialectic became a tool for materialist historical analysis, a theoretical maneuver that his critics derided and his descendants on the Left have wrestled with ever since. Jameson brings a theoretical scrutiny to bear on the questions that have arisen in the history of this philosophical tradition, contextualizing the debate with essays on commodification and globalization, and with reference to the work of Rousseau, Fichte, Heidegger, Sartre, Derrida, and Lacan. Through rigorous, erudite examination, Valences of the Dialectic charts a movement toward the innovation of a "spatial" dialectic, culminating in a remarkable meditation on globalization, through a study of Paul Ricoeur. Jameson presents a new synthesis of thought that revitalizes dialectical thinking for the twenty-first century.
Praise For Valences of the Dialectic…
"One of the great writers of our time, not just one of the most formidably gifted critics and cultural theorists."—Terry Eagleton, London Review of Books
Verso, 9781859848777, 625pp.
Publication Date: November 2, 2009
About the Author
Fredric Jameson is Distinguished Professor of Comparative Literature at Duke University. The author of numerous books, he has over the last three decades developed a richly nuanced vision of Western culture's relation to political economy. He was a recipient of the 2008 Holberg International Memorial Prize. He is the author of many books, including "Postmodernism, Or, The Cultural Logic of Late Capitalism," "The Cultural Turn, A Singular Modernity," "The Modernist Papers," "Archaeologies of the Future," "Brecht and Method, Ideologies of Theory, ""Valences of the Dialectic," "The Hegel Variations" and "Representing Capital."
or
Not Currently Available for Direct Purchase