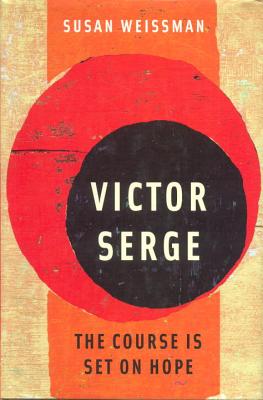 Victor Serge (Hardcover)
The Course is Set on Hope
Verso, 9781859849873, 368pp.
Publication Date: September 17, 2001
Other Editions of This Title:
Paperback (2/12/2013)
* Individual store prices may vary.
Description
Revolutionary novelist and historian, erstwhile anarchist, Bolshevik, dissident, Left Oppositionist … Victor Serge is one of the most compelling figures to have emerged from the history of the Soviet Union. A lucid observer and a great writer, his is the story of a course set on hope, a pursuit of truth, dignity and human justice set against some of the most momentous events of the twentieth century.

Born Victor Kibalchich, the son and nephew of Russian revolutionary populists, Serge spent his first fifteen years in Belgium and was twenty-eight before he set foot in his homeland in 1919. Within months he had joined the Bolsheviks, and went on to participate in the first three Congresses of the Comintern, fight in the siege of Petrograd and work on various party assignments, both at home and abroad. In 1925, after the defeat of the German October, he returned to the Soviet Union to stand with the Left Opposition. A sort of permanent political oppositionist, Serge's refusal to side with either capitalism or Stalinism assured his marginality and consigned him to a life of persecution and poverty: after years of frequent and vicious arrests, he was expelled from Russia in 1936; four years later when the Wehrmacht arrived in Paris he was forced to flee to Marseilles; finally he was granted an exit visa and went to Mexico, where he died in poverty in 1947.

Throughout his life, Serge wrote prolifically and tellingly of his times: novels, short stories and novellas as well as biographies of Lenin, Stalin and Trotsky and an enormous archive of unpublished work including correspondence, polemics and essays. Susan Weissman's appreciation of these works and understanding of Serge's life reveal the extraordinary commitment and hope of a great political writer and activist whose views so often reflect the significant historical struggles of our own time.
About the Author
Susan Weissman is Professor of Politics at Saint Mary's College of California. She is an award-winning broadcast journalist, sits on the editorial boards of Critique and Against the Current, and is the editor of Victor Serge: Russia Twenty Year After and The Ideas of Victor Serge.
Praise For Victor Serge: The Course is Set on Hope…
"Victor Serge was probably the greatest working-class writer of the twentieth century. As this superb study makes clear, he was also the Revolution's most ardent lover and indestructible conscience."—Mike Davis

"Have you ever come across one of those madmen who joyfully, ironically and lightheartedly strove to build the world soviet republic? Or one of those revolutionaries who never gave up hope, despite betrayal and defeat, prison and exile? Susan Weissman presents Victor Serge, a member of that race of giants, a gargantuan in the fight for freedom and collective happiness."—Antonio Negri

"Victor Serge is one of the unsung heroes of a corrupt century: a figure of great political courage and humanity. It is a pleasure to see this major witness to our time at last get the careful, sympathetic and informed biography he has so long deserved."—Adam Hochschild

"In 1968, when I was preparing for a poetry reading in Mexico, my Mexican friends loaned me Victor Serge's typewriter. My fingers almost froze as each touch of the keyboard brought to life the ghosts of the past...This is a unique book about a unique man, Victor Serge, who, in being one of the first to fight for a truly humanitarian socialism, was punished for his shame at the betrayal of the revolution he so longed for."—Yevgeny Yevtushenko
or
Not Currently Available for Direct Purchase