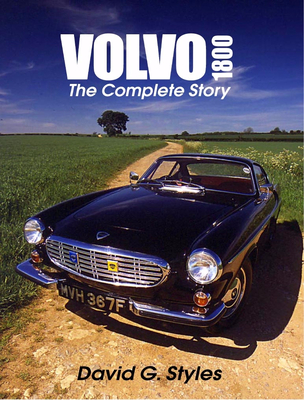 Volvo 1800 (Hardcover)
The Complete Story
The Crowood Press UK, 9781861261953, 192pp.
Publication Date: May 16, 2002
* Individual store prices may vary.
Description
Volvo's P1800 was designed in Sweden and Italy, built in England, Scotland and Sweden, and sold throughout the world; thus, it has a fascinating history. David Styles takes a look back to the first Volvo and traces its design and development through to its launch in 1961. He covers the various variations of the 1800 coupe and the 1800ES sportwagon. He includes the complete history of all 1800 variations, full technical specs for each model, and advice on buying and maintaining an 1800.
About the Author
Dr. David Styles is a published Aviation-Automotive historian with twenty-one books to his credit and over thirty international awards for his writing over thirty years. His first book, a 504-page automotive volume, As Old As The Industry -- Riley (a Society of Automotive Historians Cugnot Award winner) and a Dalton Watson title still in print. His most recent book, Two Flights to Victory was published in the autumn of 2011 and the core story of The Tuskegee Airmen and Beyond is drawn from this narrative of the Tuskegee Airmen's initiation into combat in the 12th Air Force, then the 15th Air Force, both commanded by Major General Jimmy Doolittle. Out of his series of lectures on the topic of Two Flights to Victory and the Doolittle Raid, David Styles first prepared a paper on the subject of the Tuskegee Airmen, then expanded it to become a lecture about The Tuskegee Airmen and Beyond for presentation in Black History Month. The success of those lectures encouraged him to go much deeper into the story of the African American struggle and this book is the result of those researches.In California, Dr. Styles has lectured to audiences on board the USS "Hornet", as well as at the Haggin Museum in Stockton, Castle Air Museum at Atwater and the California State Military Museum in Sacramento. He has also lectured to the Royal Aeronautical Society in Great Britain. He served with the Royal Air Force and is a Vice-President of Naval Eight/208 Squadron Association. Dr. Styles is also Aviation Historian to the California State Military Museum. His other aviation writings include All the Eights -- Eight Decades of Naval Eight/208, Doolittle Tales and Two Flights to Victory, as well as many published articles in such journals as Air Power History.