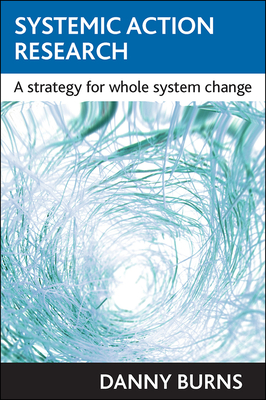 Systemic Action Research (Hardcover)
A Strategy for Whole System Change
Policy Press, 9781861347381, 208pp.
Publication Date: October 24, 2007
* Individual store prices may vary.
Description
Systemic action research works with real social and organisational issues to uncover their complex dynamics, often revealing unexpected opportunities. This book shows how this process can be integrated, in any context, to the process of social and organisational development and change. The book explains how systemic thinking works and how systemic action research can be embedded into organisational structures and processes to catalyse sustainable change and critical local interventions. Practically written, it details how to design a programme and build it directly into policy and practice development, extending the possibilities of action research beyond the 'individual' and the 'group' to work across whole organisations, multi-agency governance arenas and networks. The book is filled with illustrative stories and pictures which bring the concepts to life enabling the reader to develop a clear picture of how to put it into practice.Systemic action research programmes are now being adopted in Government and local governance contexts as well as in national and international NGOs. This book will be invaluable for experienced action researchers as well as social science and social policy researchers who will benefit from an approach to qualitative research which is participative, grounded in practice and allows systemic understandings of complex problems. Policy makers and practitioners will appreciate a process which generates meaningful evidence about the dynamics of change and offers a tangible system for continuously integrating that learning into both formal and informal decision-making.
About the Author
Danny Burns, SOLAR, University of the West of England
Praise For Systemic Action Research: A Strategy for Whole System Change…
Danny Burns does a service to the contemporary action research field with this clear and accessibly argued discussion of sophisticated 'whole systems' facilitation. In explicating the kinds of complexity we are now experiencing, the book takes the discussion to a next level. Professor Yoland Wadsworth, University of Melbourne and President of the International Association for Action Learning, Action Research & Process Management (2001-2004)

This is an excellent and long overdue contribution to the action research literature which emphasises a holistic approach to intervention. Written in a compelling style, this book bridges the gap between small-scale, local research and the bigger collective potential that action research has as a movement for change ... an important contribution for all those working towards social transformation. Professor Margaret Ledwith, University of Cumbria and Co-ordinator of the International Collaborative Action Research Network (CARN)

Two decades on from Robert Chamber's epic Rural Development, Putting the Last First", this book is a milestone in development thinking." Stuart Worsley, Director of SNV Kenya and Southern Sudan - The Netherlands Development Organisation

Unlike so many research texts, this book is genuinely accessible and engaging. It seems to encourage and celebrate undergraduate research, rather than inhibititing it. Thoby Miller, North East Wales Institute of Higher Education
or
Not Currently Available for Direct Purchase