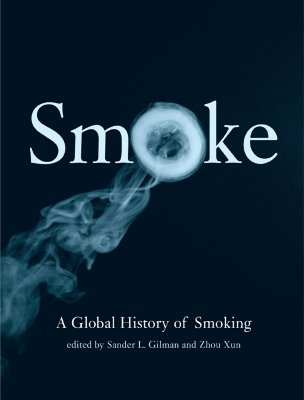 Smoke (Hardcover)
A Global History of Smoking
Reaktion Books, 9781861892003, 408pp.
Publication Date: November 4, 2004
* Individual store prices may vary.
Description
Human beings have always smoked, and they probably always will. Every culture in recorded history has smoked something, whether as a cure or for pleasure, whether as part of a ritual or as an aspect of popular culture. It is curious, then, that no history of smoking has been written based on the assumption that smoking – in all of its forms and products – is a cultural phenomenon common to all human societies.

Smoke: A Global History of Smoking examines the culture of smoking in different traditions and locations around the world. From opium dens in Victorian England to tobacco in Edo period Japan, and from ganja and cocaine to Havana cigars, Smoke encompasses the subject as no book has before.

Based in cultural history, it employs a large number of images as part of its evidence: around 300 illustrations document smoking and smokers of many substances including tobacco, scented cigarettes, marijuana, opium and cocaine. The various essays examine the changing role of smoking in high and popular culture, ranging from images used in advertising to the legal and moral critiques of smoking, and from opera to the internet. Smoke will appeal to all those who smoke, all those who used to smoke, and all those who have tried, and failed, to give it up.
About the Author
Sander L. Gilman is Distinguished Professor of the Liberal Arts and Medicine at the University of Illinois, Chicago. A cultural and literary historian, he is the author or editor of over sixty books, including Health and Illness: Images of Difference (Reaktion Books, 1996).
Praise For Smoke: A Global History of Smoking…
"There is an undeniable pleasure to be taken in Smoke's copious visual material."
— Evening Standard
"Exquisitely produced book . . . like a pack of cigarettes, it's something to be dipped into for smoky treats."
— Mail on Sunday
"In what is perhaps the high point of the book, Daniel Gilman offers an outstanding and subtle analysis of the way in which the question in Japan is not 'to smoke or not to smoke', but rather whether one is smoking correctly. . . The magpie reader will find many little gems here."
— Nigel Barley
"This is no book for the pinched-nosed policy-makers casting about for more cheap smoke-screen legislation. And it's hardly a gift for those hoping to stick to New Year's resolutions. But for others who have consigned their ashtrays to Oxfam and forgotten how Santa used to light-up a Lucky Strike after his hard night's work or who can savour the ironies of Christopher Columbus introducing Amero-Indians to church incense before loading up with weed, it's a worthy substitute to pass with the port."
— Roger Cooter
"Most people . . . will find plenty in it to delight them."
— Keith Miller
"Smoke is a skilful blend of broad scholarship and general appeal. Comprehensive and well written, it is lavishly illustrated with pages of costly colour and its production is a tribute to the modern printer's art. . . .It could hardly be bettered as a conversation piece."
— Ian Hicks
"Whether you're a committed smoker or a zealous guardian of public health, this lush coffee-table book about the history of smoking is bound to fascinate."
— Cameron Woodhead
The contributors to Smoke provide some intriguing insights into the foggy history of the twentieth century's romance with tobacco."
— Modern Painters
"For Gilman and Zhou, smoking is an activity that helps define what it means to be human. Their book . . . confirms the idea that smoking and the theatrical go together."
— Boston Globe