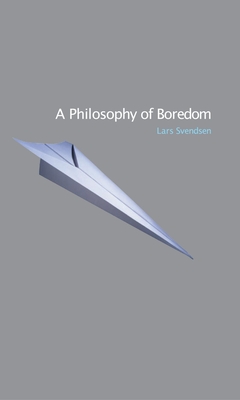 A Philosophy of Boredom
Paperback

* Individual store prices may vary.
Description
It has been described as a "tame longing without any particular object" by Schopenhauer, "a bestial and indefinable affliction" by Dostoevsky, and "time's invasion of your world system" by Joseph Brodsky, but still very few of us today can explain precisely what boredom is. A Philosophy of Boredom investigates one of the central preoccupations of our age as it probes the nature of boredom, how it originated, how and why it afflicts us, and why we cannot seem to overcome it by any act of will.

Lars Svendsen brings together observations from philosophy, literature, psychology, theology, and popular culture, examining boredom's pre-Romantic manifestations in medieval torpor, philosophical musings on boredom from Pascal to Nietzsche, and modern explorations into alienation and transgression by twentieth-century artists from Beckett to Warhol. A witty and entertaining account of our dullest moments and most maddening days, A Philosophy of Boredom will appeal to anyone curious to know what lies beneath the overwhelming inertia of inactivity.

Praise For A Philosophy of Boredom…
"An amusing, learned, and articulate philosophical study of one of humanity's prime afflictions. . . Svendsen has a way with words, and, unlike many writers of philosophy books, is also blessed with a sly wit and a thorough knowledge of popular culture. You would be hard pressed to find a better book to make do with this year than this wonderful little one, which is, somehow, despite the desolation at its core, oddly uplifting."
— Phil Miller
"A good, solid practical work of philosophy, in the tradition of Aristotle's Ethics . . . he has a light touch and a playful attitude."
— Tom Hodgkinson
"When an investigation into boredom is done well, as it is in A Philosophy of Boredom, it is positively gripping."
— Times Literary Supplement
"A fascinatingly modern essay on ennui and emptiness . . . Svendsen's thesis is so cool that boredom, linked with desire rather than need, suddenly seems like a desirable state of being in an agitated age."
— The Times
"Quite fascinating"-The Times Online
— Ben Macintyre
"Lars Svendsen, author of A Philosophy of Boredom, is anything but boring on the subject."
— Harry Mount
"For a serious work of philosophy, Boredom exhibits a light touch and impressive pop-cultural range. . . . It's not boring."
— Village Voice
"Far from boring, this is a highly accessible and entertaining study."
— The Age
"An engaging read . . . touches upon many points which indeed are central to anthropological concerns. . . . I highly recommend this book."
— Yasmine Musharbash
"Witty. . . . Unlike Scandinavian philosophers known for sterile prose styles, Svendsen combines droll dismissal of statistical research, incisive readings of boredom art . . . and etymological ponderings of the nuances among boredom. . . . You will not be bored reading him for the first time."
— Carlin Romano
Reaktion Books, 9781861892171, 192pp.
Publication Date: April 15, 2005
About the Author
Lars Svendsen is professor in the Department of Philosophy at the University of Bergen, Norway. He is the author of A Philosophy of Fear, Fashion: A Philosophy, and A Philosophy of Boredom, all published by Reaktion Books.