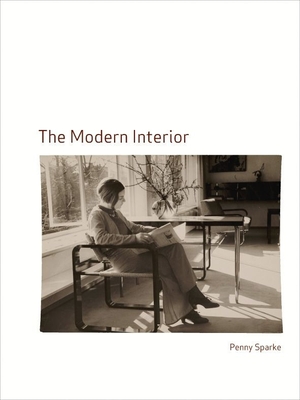 The Modern Interior (Paperback)
Reaktion Books, 9781861893727, 240pp.
Publication Date: September 15, 2008
* Individual store prices may vary.
Description
Today's home is filled with pieces from Pottery Barn, IKEA, and Crate & Barrel, and we pore over glossy catalogs in hopes of achieving the "modern interior." This idealized aesthetic is the subject of Penny Sparke's study, as she explores the style in both its absolute form and the diverse decorating approaches seen in the contemporary home.

            The shift from Victorian to modern style, The Modern Interior reveals, was not as simple and smooth as it is often perceived and the book probes the complicated history behind that transition. Sparke examines the work of such designers as Marcel Breuer, Frank Lloyd Wright, Charles and Ray Eames, and Mies van der Rohe, and draws upon design examples from the United States and Europe to reveal that, unlike the designed exteriors of buildings and institutions, the idea of the "interior" has been a largely abstract conception promoted through exhibitions, retail stores, and mass media.

            A comprehensive and in-depth investigation of the design environments we live and play in, The Modern Interior will be essential reading for all scholars and interested observers of architecture and modern design culture.
About the Author
Penny Sparke is Pro Vice-Chancellor in the Arts at Kingston University, UK. She is also the author of As Long As It s Pink: The Sexual Politics of Taste and Elsie De Wolfe: The Birth of Modern Decoration."
Praise For The Modern Interior…
"The visual reticence of this little book . . . undersells the expansiveness, diversity and materiality of its subject . . . The Modern Interior presents a compelling argument to consider interiors outside the home, just as it charts the complex interplay between public and private in all interiors, domestic and otherwiseise. This persuasive book is a well-crafted and engaging read ."--Times Higher Education
— Times Higher Education
"Iusing examples of design from around the world, including the US, Scandinavia, UK, France, Germany and Italy, The Modern Interior offers some real insight into why the interior environments we inhabit look the way they do."
— Designer Magazine
"Sparke examines the concept of the 'interior' as a consciously created space from the Victorian era to the early 21st century. . . . Her compact study traces the impact of popular concepts of private space on public space design and of public space design theory on the design of private interiors, revealing the complex meaning of the modern interior."
— Choice
"[Sparke] takes readers on an uncommonly toughtful tour of design evolution from the Victorian era to today."
— Interior Design