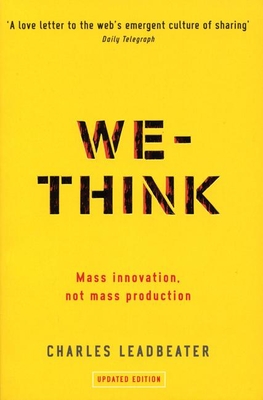 We-Think (Paperback)
Profile Books(GB), 9781861978370, 300pp.
Publication Date: July 1, 2009
* Individual store prices may vary.
Description
You are what you share. That is the ethic of the world being created by YouTube and MySpace, Wikipedia and Facebook. We-Think is a rallying call for the shared power of the web to make society more open and egalitarian. We-Think reports on an unparalleled wave of collaborative creativity as people from California to China devise ways to work together that are more democratic, productive and creative. This guide to the new culture of mass participation and innovation is a book like no other: it started first online through a unique experiment in collaborative creativity involving hundreds of people across the globe. The generation growing up with the web will not be content to remain spectators. They want to be players and this is their slogan: we think therefore we are.

About the Author
Charles Leadbeater is one of the world's leading authorities on innovation and creativity. He has advised companies (including BBC and Microsoft), cities and governments; has won the David Watt Prize for journalism; and is one of the top management thinkers in the world (Accenture, 2005). Previous books include Living on Thin Air and Up and Down the Escalator.
Praise For We-Think…
"Likely to be the most controversial book about the internet to be published this year . . . I urge you to read it."-The Independent

"A riveting guide to a new world in which a whole series of core assumptions are being overturned by innovations on the web."-The Spectator

"I was gripped. The book's theme is as big and bold as it gets ... Leadbeater's book should be compulsory reading for all who seek to understand the driving force of this century" - Management Today