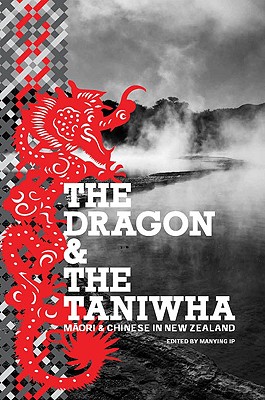 The Dragon and the Taniwha
Maori and Chinese in New Zealand
Paperback

* Individual store prices may vary.
Description
Analyzing for the first time the relationship between the tangata whenua and the country's earliest non-European immigrant group, this study investigates how two different marginalized groups in New Zealand society—the Maori and the Chinese—have interacted over the last 150 years. Various aspects are explored, such as how Maori newspapers have portrayed Chinese publications and vice versa, the changing demography of Chinese and Maori populations, Maori-Chinese marriages, and the ancient migration of both groups. The ethnically diverse contributors—from Maori to Chinese to European scholars—tackle numerous questions from many angles as well, such as Do the Maori resent Chinese immigrants? Do Chinese New Zealanders understand the role of the tangata whenua? and Have Maori and Chinese formed alliances based on common values and history? The result is an engaging portrait of the past and present relationships between two important peoples. Since race relations in New Zealand have usually been examined in terms of Maori and Pakeha, this unique exploration of Maori–Chinese relations portrays a much richer and more complex social fabric.
Praise For The Dragon and the Taniwha: Maori and Chinese in New Zealand…
"This is a story whose telling is long overdue, and Manying Ip has told it beautifully and with sensitivity and respect. Most importantly she has allowed the people to tell their own story, in their own words. This book therefore provides a wonderful insight into what it means to be Maori–Chinese." —Nigel Murphy, NZ Chinese Association Bulletin on Being Maori Chinese
"Manying Ip's work covers the many differing facets of Chinese settlement in New Zealand and is enormously valuable therefore . . . it is very important that serious studies such as Ip's should be widely disseminated for greater understanding among all our communities." —Margaret Christensen, Wairarapa Times–Age on Unfolding History Evolving Identity
"It is a sign of the maturity of a nation that it can herald and cherish the components of its identity. This book—timely, thought-provoking, interesting, fascinating—goes a long way to turning the debates about immigration into those based on fact and not fallacy." —David Merritt, Wanganui Chronicle on Unfolding History Evolving Identity
"[A] fine collection of essays, ably assembled and edited by Manying Ip . . . that most of the contributors are Chinese New Zealanders or of Chinese birth suggests the contribution of the Chinese to New Zealand will continue to be examined in [sic] sensitive and illuminating fashion." —Terry Hearn, Otago Daily Times on Unfolding History Evolving Identity
"This is a brave, important and necessary book—especially at this time in New Zealand's history. It is commendable for its diverse and compelling treatment of a misunderstood and often neglected area of our national culture." —Anna Rogers, New Zealand Books on Unfolding History Evolving Identity
"Provide[s] a valuable addition to our knowledge of the changing features of race relations and identity formation in New Zealand." —Journal of Pacific History
Auckland University Press, 9781869404369, 360pp.
Publication Date: June 1, 2009
About the Author
Manying Ip is an associate professor of Chinese in the Asian studies department of the University of Auckland. She is the author of Aliens at My Table: Asians as New Zealanders See Them, Being Maori Chinese, Dragons on the Long White Cloud, and Home Away from Home: Life Stories of Chinese Women in New Zealand. She is the editor of Unfolding History Evolving Identity: The Chinese in New Zealand.
or
Not Currently Available for Direct Purchase