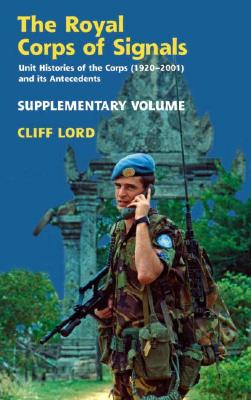 The Royal Corps of Signals
Unit Histories of the Corps (1920-2001) and Its Antecedents: Supplementary Volume
Hardcover

* Individual store prices may vary.
Other Editions of This Title:
Paperback (2/24/2014)
Paperback (7/19/2013)
Description
With the interest shown in "The Royal Corps of Signals: Unit History (1920-2001) and their Antecedents," it was decided to extend the work to include some of the principal Commonwealth Signal Corps, and to provide supplemental data regarding British Signals that has come to light since the original volume was published. The book concentrates on Commonwealth signal corps unit histories for the following countries: Australia, Canada, India, New Zealand, Nigeria, Pakistan, Rhodesia, Singapore, and South Africa. The emphasis is post Second World War so as not to rewrite the official histories already published. A brief overview is also given of each countries Corps history, and illustrations of many of the units distinctive insignia are shown. Supplementary information is included on Ceylon in the Second World War, and British Signal units that served in Northern and Southern Russia after the end of the First World War, Royal Engineer Signal Service Volunteers in 1918, and Air Formation Signals. The reader will note that Royal Signals has strongly influenced most of the Corps, but each has evolved in its own way to suit its geopolitical considerations. With the advent of the computer-age and the move away from torn-tape relay systems it is interesting to see how each country comes to its own decision in providing a solution to its Command, Control, Communications, Computers and Intelligence. Electronic Warfare is covered to a limited extent. At times it was difficult to distinguish between what was tactical Electronic Warfare and quasi-governmental Signal Intelligence gathering from fixed communication stations. Canada proved a particularly difficult country to write about due to having combined the three services into one military organization and correspondingly merged their communicators and equipment. The book is Army-centric and thus air force and naval assets and philosophies have been kept to a minimum. This collection of individual signal unit histories will not only be of interest to those that served in them and their families, but will assist researchers of military history. Signals provide the nervous system of any army, and without good communications there can be no success on the battlefield. Signals not only provide tactical communications within their formation but strategic communications linking Headquarters with Headquarters around the world, and with allies. More and more technology is determining the outcome of conflict. More and more the importance of Signals is being understood. Today the close liaison between headquarters, intelligence and signals is ever more obvious, while the boundaries between the Staff, Intelligence Corps and Signals is ever more blurred. The challenge of Information Technology is being accepted and integrated into the way signals do business, and in progressive Corps it is having a profound effect on the way they operate and think. They are the silent elite. Key sales points: Follow-up volume to our highly-successful volume covering the history of the Royal Corps of Signals and other Commonwealth Signals units / Includes data covering the Signal Corps units of Australia, Canada, India, New Zealand, Nigeria, Pakistan, Rhodesia, Singapore and South Africa / Supplementary data relating to the Royal Corps of Signals and its antecedents includes Signals units in Russia 1918-21, Royal Engineer Signal Service Volunteers 1918, and Air Formation Signals / Features a large number of photographs covering insignia and badges.
Helion & Company, 9781874622338, 313pp.
Publication Date: January 24, 2008
or
Not Currently Available for Direct Purchase