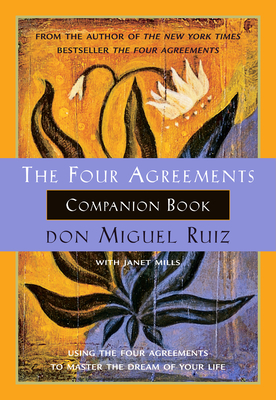 The Four Agreements Companion Book (Paperback)
Using the Four Agreements to Master the Dream of Your Life
Amber-Allen Publishing, 9781878424488, 224pp.
Publication Date: October 16, 2000
* Individual store prices may vary.
Description
The Four Agreements introduced a simple, but powerful code of conduct for attaining personal freedom and true happiness. Now The Four Agreements Companion Book takes you even further along the journey to recover the awareness and wisdom of your authentic self. This companion book is a must-read not only for those who enjoyed don Miguel's first book, but for anyone who is ready to leave suffering behind, and to master the art of living in our natural state: happiness. The Companion Book includes: • How to break the domestication that keeps you enslaved by fear • Keys to recover your will, your faith, and the power of your word • Practice ideas to help you become the master of your own life • A dialogue with don Miguel about living The Four Agreements • Success stories from people who have used The Four Agreements"The Four Agreements are a tool for transformation, leading you to stop judging, mainly yourself, and to start practicing another way of life." — don Miguel Ruiz
About the Author
don Miguel Ruiz is the international bestselling author of The Four Agreements (a New York Times bestseller for over a decade), The Four Agreements Companion Book, The Mastery of Love, The Voice of Knowledge, The Circle of Fire, and The Fifth Agreement. The teachings of Ruiz are best known for transforming complex human issues into simple common sense — a talent that has earned him millions of fans, international acclaim, and a vote of approval from Oprah Winfrey. Sales of his Toltec Wisdom Series have soared to over 10 million copies in the United States, and have been translated into more than 40 languages worldwide.Janet Mills is the founder and president of Amber-Allen publishing. She is the co-author, with don Miguel Ruiz, of six books in The Toltec Wisdom Series, creator of "The Four Agreements for a Better Life" online course, and editor of Deepak Chopra's bestselling title, The Seven Spiritual Laws of Success. Her life's mission is to publish books of enduring beauty, integrity, and wisdom, and to inspire others to fulfill their most cherished dreams.