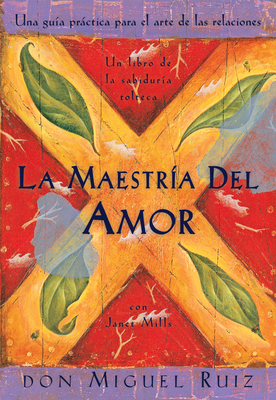 La maestría del amor
Un libro de la sabiduria tolteca, The Mastery of Love, Spanish-Language Edition
Paperback

* Individual store prices may vary.
Other Editions of This Title:
Paperback (3/30/1999)
Description
En La maestría del amor, don Miguel Ruiz ilumina las creencias y las suposiciones basadas en el miedo que socavan el amor y que conducen al sufrimiento y la desdicha en nuestras relaciones. A través de historias perspicaces que nos hacen llegar su mensaje, nos enseña a sanar nuestras heridas emocionales, a recobrar la libertad y la dicha que nos pertenecen por derecho propio y a restaurar el espíritu lúdico que resulta tan vital en las relaciones amorosas.

La maestría del amor incluye:

•  Las razones por las cuales la "domesticación" y la "imagen de perfección" conducen al autorrechazo

•  La guerra de control que lentamente destruye a la mayoría de relaciones

•  El motivo por el cual acechamos el amor en los demás y cómo capturar el amor que reside en nuestro interior

•  Finalmente, la manera de aceptarnos y perdonarnos a nosotros mismos y a los demás

La felicidad sólo puede provenir de tu interior y es el resultado de tu amor. Cuando eres consciente de que nadie más es capaz de hacerte feliz y de que la felicidad es el resultado de tu amor, esto se convierte en la maestría suprema de los toltecas: La maestría del amor.  — del libro
Amber-Allen Publishing, 9781878424532, 224pp.
Publication Date: September 25, 2001
About the Author
Don Miguel Ruiz

Don Miguel Ruiz es el autor del éxito de ventas internacional Los cuatro acuerdos (en la lista de bestseller del New York Times durante más de una década), La maestría del amor, Cuaderno de trabajo de Los cuatro acuerdos, Oraciones, La voz del conocimiento y El quinto acuerdo (con don Jose Ruiz). Sus libros han sido traducidos a cuarenta idiomas y han vendido millones de copias en todo el mundo. Don Miguel ha dedicado su vida a compartir su mezcla única de sabiduría ancestral y conciencia moderna a través de conferencias, talleres de trabajo y viajes a lugares sagrados de todo el mundo.

Janet Mills

Janet Mills es la fundadora y editora de Amber-Allen Publishing. Es la coautora de seis libros de la serie de sabiduría tolteca con don Miguel Ruiz y creadora del curso en línea "The Four Agreements for a Better Life" (solamente en inglés). También es la editora del bestseller internacional de Deepak Chopra, Las siete leyes espirituales del éxito. La misión de su vida es publicar libros de belleza perdurable, integridad y sabiduría e inspirar a otras para satisfacer sus sueños más preciosos.