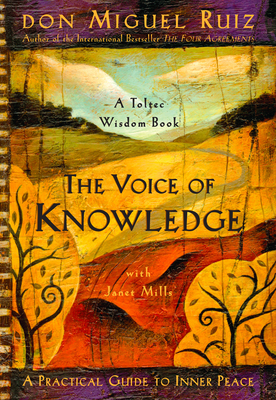 The Voice of Knowledge (Paperback)
A Practical Guide to Inner Peace
Amber-Allen Publishing, 9781878424549, 248pp.
Publication Date: March 10, 2004
* Individual store prices may vary.
Description
In The Voice of Knowledge, Miguel Ruiz reminds us of a profound and simple truth: The only way to end our emotional suffering and restore our joy in living is to stop believing in lies — mainly about ourselves. Based on ancient Toltec wisdom, this breakthrough book shows us how to recover our faith in the truth and return to our own common sense. Ruiz changes the way we perceive ourselves, and the way we perceive other people. Then he opens the door to a reality that we once perceived when we were one and two years old — a reality of truth, love, and joy."We are born in truth, but we grow up believing in lies. . . . One of the biggest lies in the story of humanity is the lie of our imperfection." — don Miguel Ruiz
About the Author
don Miguel Ruiz is the international bestselling author of The Four Agreements (a New York Times bestseller for over a decade), The Four Agreements Companion Book, The Mastery of Love, The Voice of Knowledge, The Circle of Fire, and The Fifth Agreement. The teachings of Ruiz are best known for transforming complex human issues into simple common sense — a talent that has earned him millions of fans, international acclaim, and a vote of approval from Oprah Winfrey. Sales of his Toltec Wisdom Series have soared to over 10 million copies in the United States, and have been translated into more than 40 languages worldwide.Janet Mills is the founder and president of Amber-Allen publishing. She is the co-author, with don Miguel Ruiz, of six books in The Toltec Wisdom Series, creator of "The Four Agreements for a Better Life" online course, and editor of Deepak Chopra's bestselling title, The Seven Spiritual Laws of Success. Her life's mission is to publish books of enduring beauty, integrity, and wisdom, and to inspire others to fulfill their most cherished dreams.
Praise For The Voice of Knowledge: A Practical Guide to Inner Peace…
"This book ... simple yet so powerful, has made a tremendous difference in how I think and act in every encounter."
— Oprah Winfrey