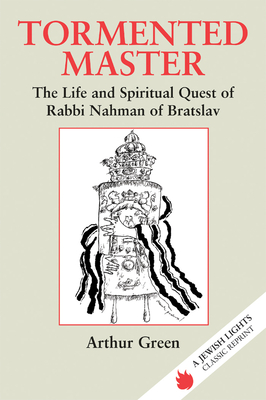 Tormented Master (Jewish Lights Classic Reprint) (Paperback)
Jewish Lights Publishing, 9781879045118, 408pp.
Publication Date: May 1, 1992
* Individual store prices may vary.
Description
"A major contribution to the understanding of Hasidic Wisdom and thought; it brings the reader closer to Hasidism's greatest teller of tales."
--Elie Wiesel
The search for spiritual meaning drives great leaders in all religions. This classic work explores the personality and religious quest of Nahman of Bratslav (1772-1810), one of Hasidism's major figures. It unlocks the great themes of spiritual searching that make him a figure of universal religious importance.
In this major biography, Dr. Arthur Green--teacher, scholar, and spiritual seeker--explores the great personal conflicts and inner torments that lay at the source of Nahman's teachings. He reveals Nahman to have been marked at an early age by an exaggerated sense of sin and morbidity that later characterized his life and thought. While subject to rapid mood swings and even paranoia, Nahman is a model of spiritual and personal struggle who speaks to all generations. Green's analysis of this troubled personality provides an important key to Nahman's famous tales, making his teachings accessible for people of all faiths, all backgrounds.
"If there is any single feature about Nahman's tales, and indeed about Nahman's life as well, that makes them unique in the history of Judaism, it is just this: their essential motif is one of quest. Nahman, both as teller and as hero of these tales, is Nahman the seeker. He has already told us, outside the tales, of his refusal ever to stand on any one rung, of his call for constant growth, of his need to open himself up to ever-new and more demanding challenges to his faith. The tales now affirm this endless quest..."
--from Excursus II. The Tales