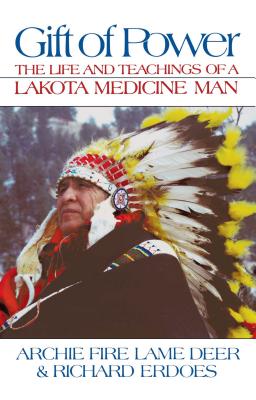 Gift of Power (Paperback)
The Life and Teachings of a Lakota Medicine Man
Bear & Company, 9781879181120, 304pp.
Publication Date: October 1, 1992
* Individual store prices may vary.
Description
With surprising candor, Archie Fire Lame Deer describes the magic and power of the Native American spirit life. Archie's compelling narrative recaptures his boyhood years under the tutelage of his medicine-man grandfather on a South Dakota farm. We follow him from Catholic school runaway to Army misfit, from bartender to boozer, from Hollywood stuntman to chief rattlesnake catcher of the state of South Dakota. And we exult with him when he comes home to the world of spirit.
About the Author
Archie Fire Lame Deer has joined the ranks of other spiritual leaders, such as the Dalai Lama, in the quest for world peace, while always remaining a traditional Sioux medicine man. He is the kuwa kiyapi, or intercessor, for the yearly Lakota Sundance and is the official representative for the Sacred Buffalo Calf Pipe at Crow Dog Sundance. Richard Erdoes is the coauthor of Lakota Woman, Lame Deer, Seeker of Visions, and American Indian Myths and Legends, and author of A.D. 1000: Living on the Brink of Apocalypse and A Sound of Flutes, as well as more than twenty other titles.
Praise For Gift of Power: The Life and Teachings of a Lakota Medicine Man…
"In Gift of Power, Archie Fire Lame Deer continues in the wonderful tradition of life-filled, wise, and humorous teachings established in Lame Deer, Seeker of Visions by his father, the Lakota medicine man John Fire, with the expert assistance of Richard Erdoes, who has also organized and edited the present volume."
-Peter Matthiessen, author of In the Spirit of Crazy Horse and Indian Country