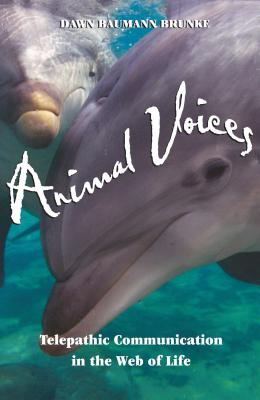 Animal Voices
Telepathic Communication in the Web of Life
Paperback

* Individual store prices may vary.
Description
Animals ranging from mosquitoes to elephants use their own words to guide humanity to a deeper spiritual awakening.

• Contains interviews with 25 professional animal communicators and over 100 different animals and animal spirits.

• Provides a thrilling glimpse of the possibilities of direct animal-human dialogue.

According to Echo, an Arabian mare, "Humans are beings of love who have forgotten what love is and who they are." Along with a host of other animal communicators, Dawn Baumann Brunke gives animals like Echo a voice--a direct line of communication to the human mind. Through Animal Voices, the animal kingdom delivers a message about deepening our spirituality and reconnecting with the web of life.

Our earliest ancestors had an ongoing shamanic dialogue with the animal kingdom, but this ability has been lost to most in the modern world. Brunke provides the techniques to reopen these connections, reminding us that when we are open to communication with animals, we are open to deeper layers of ourselves.

The main contributors to this book are actual animals, who reveal themselves to be sentient beings with their own thoughts, emotions, and spiritual reasons for being on the planet. How Brunke overcame her initial skepticism and learned to hear their voices is a fascinating story. Throughout Animal Voices the author integrates her own reflections with those of the animals she interviews. The result is something that will delight animal lovers and force skeptics to reconsider their ideas about the nature of animal consciousness and the possibility of telepathic human-animal communication.
Praise For Animal Voices: Telepathic Communication in the Web of Life…
"Dawn answers major questions raised by the mind-stretching implications of animal intelligence and telepathic communion between all beings with both the heart of an excited student who has recovered a long lost dream and the mind of a detective, tentatively and skeptically uncovering and dissecting a great mystery."
— Penelope Smith, author of Animal Talk

"Powerful! Moving! A compelling journey reminding us that the wisdom of the animal kingdom offers a window to our own inner mysteries. Through personal experience and intimate case histories, Dawn Brunke has masterfully crafted a 'must read' for skeptics, and animal lovers, alike."
— Gregg Braden, Writer, Lecturer, Guide Author of Awakening to Zero Point, Walking Between the Worlds,

"This is an important and amazing book! With grace and eloquence, Dawn takes the reader on a wondrous journey into the rich potential of the human-animal connection. Packed with profound insights and joyful surprises, Animal Voices is educational, entertaining, and extremely pertinent to the urgent need on our planet for a deeper understanding of all life."
— Steve Johnson, Flower Essence Therapist Author of The Essence of Healing

"To those of us who have always belived in and lived within the sacredness of all life, those just awakening to it, and those needing to hear the message, Dawn gives us a profound gift in herself and Animal Voices that can do no less than greatly assist the healing consciousness now finally arriving on this planet. Thank you, Dawn, from the Heart of All That lives!"
— Rita Reynolds, Founder of Howling Success, Animal Sanctuary Author of Blessing the Bridge

"Dawn Brunke takes us through her incredible journey as she learns about animal communication. She teaches the reader that animals are our teachers -- they teach us to trust ourselves, and as a result of that trust we learn who we are. From skeptic to believer, this book will bring the reader a new insight to the world of Animal Communication."
— Carol Gurney, Animal Communicator Author of The Language of Animals

"Animal Voices cuts through the shadow of our projections and beliefs about animals with both warmth and wit. These loving and wise messages from our feathered, furred, and exoskeleton-clad kin will move hearts and minds in new directions, inspiring even the most skeptical reader. Provocative, healing, and a must read for anyone who has opened his or her heart to another species."
— Joanne Lauck, author of The Voice of the Infinite in the Small: Re-visioning the Insect-Human Connec

"We are proud to recommend this book. . . . It is well written, a joy to read, drawing us in fascination through the chapters."
— laJoie, Summer 2002

"Her determination to accurately record the information she and other communicators received gives us an unusual glimpse into the lives of many animals."
— Sherry Stultz, Alaska Wellness, September/October 2002

"I highly recommend Animal Voices to every two-legged who feels ready to learn from our furry, feathered, scaly and winged friends!"
— Cynthia Larson, RealityShifters News

"Animal Voices offers us yet another unique way of tapping into the web of life."
— Spirit of Change, November/December 2002

"It is one of the most important general animal and animal communication books to come along in quite a while."
— Sally Rosenthal, Species Link, Summer 2002

"After reading Animal Voices I understood how talking with animals could be possible, even for me."
— Patricia Wade, The Chickaloon News, Winter 2002
Bear & Company, 9781879181915, 288pp.
Publication Date: May 1, 2002
About the Author
Dawn Baumann Brunke is a writer and editor who specializes in the areas of healing, dreaming, spirituality, animal communication, and deepening our connection with all life. The author of Animal Voices: Telepathic Communication in the Web of Life, Shapeshifting with Our Animal Companions, and Animal Voices, Animal Guides, she lives with her husband, daughter, and animal friends in Alaska.

Visit her web site at www.animalvoices.net.