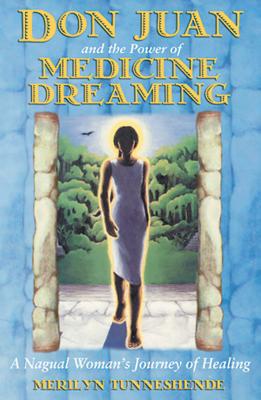 Don Juan and the Power of Medicine Dreaming
A Nagual Woman's Journey of Healing
Paperback

* Individual store prices may vary.
Description
A journey of healing and transformation through Toltec mysticism, shamanic dreaming, and the teachings of the Mayan prophecies.

• The author studied with don Juan Matus and the Nagual sorcerers who taught Carlos Castaneda.

• Includes numerous transcripts of Toltec Dreamwork sessions, providing examples of how dreamwork can transform personal life challenges.

Merilyn Tunneshende learned the secrets of Dream Power, energetic healing, and sorcery from don Juan Matus, the Toltec shaman who mentored Carlos Castaneda. This book is her personal story of over 30 years of interaction with the mystical guides, dreams, and prophecies of the Maya. Through her journey we learn of the power of transmutational energies and how they might be applied to heal and transform our world.

Like so many in the early 1970s, Merilyn Tunneshende had plans to travel the world beatnik-style, beginning with Mexico. Traumatized by the sudden death of her fiance after a series of premonitions, Merilyn found her adventurous trip transformed into a path of spiritual awakening, which took her into an intense apprenticeship with Toltec shaman don Juan Matus. After becoming a fully initiated Toltec sorceress and Nagual Dreaming Woman, she experienced a second trauma that threw her from the path of mystical study back into the everyday world of the West. For years she pursued her career as a teacher and linguist--all but dismissing her former mystical experiences as madness. When a series of dreams begin to pervade her consciousness and she received a heart-breaking diagnosis that she had AIDS, Merilyn returned to the world of Mayan prophecy and nagualist training in order to unleash the powers of transmutative energies in healing her own body and actualizing transcendent liberation.
Praise For Don Juan and the Power of Medicine Dreaming: A Nagual Woman's Journey of Healing…
"In telling this story of her own healing through ancient energetic practices, Merilyn Tunneshende shows us how to see into the world of the nagual [shamanic healer] . . . an absolutely gripping story . . . an honest and timeless book."
— Barbara Hand Clow, author of Catastrophobia

"This book will change the way many view spirituality. It is the kind of book that makes the rest of the world disappear as you get lost in the story . . . on par with the best writing of Carlos Castaneda."
— Magical Blend magazine
Bear & Company, 9781879181939, 232pp.
Publication Date: April 1, 2002
About the Author
Merilyn Tunneshende is a Toltec sorceress and a Nagual Dreaming Woman who has been taught Dream Power, energetic healing, and sorcery in the course of a 20-year apprenticeship in the Mexican desert. Since the publication of her first book, Medicine Dream, she has made numerous public appearances as lecturer, panelist, and workshop leader focusing on the healing applications of nagualist shamanism.