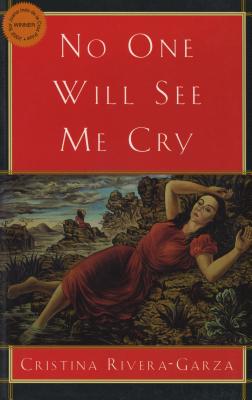 No One Will See Me Cry (Paperback)
Curbstone Books, 9781880684917, 207pp.
Publication Date: March 1, 2003
* Individual store prices may vary.
Description
Winner of the Mexico National Novel Prize, Sor Juana Inés de la Cruz Prize, and IMPACT Prize
Joaquin Buitrago, a photographer in the Castaneda Insane Asylum, believes a patient is a prostitute he knew years earlier. His obsession in confirming Matilde's identity leads him to explore the clinics records, and her tragic history. He discovers that she was a peasant adopted by a doctor uncle. She led a calm life until Cástulo, a young revolutionary chased by the authorities, finds shelter in her home. Matilde's eyes are opened to the social upheaval will lead her to break with her uncle and hide out with Diamantina Vicari. Diamantina's death devastates Matilde so much that she wanders about, completely lost, doing all kinds of jobs, including prostitution. As the photographer discovers more details, he becomes convinced that he and Matilde should live together. Ultimately, as they face defeat in a repressive society, they search to establish in the rubble an uncertain future that will somehow restore their freedom.
About the Author
Born in Mexico, Cristina Rivera-Garza is now a professor of history at San Diego State University. Her collection of short stories, La guerra no importa (The War Doesn't Matter) won the National Prize in Mexico in 1987. Her first novel, Desconocer (Forgetting) was a finalist for the Juan Rulfo Prize in 1994. 
Praise For No One Will See Me Cry…
"One of the most notable works of fiction not only in Mexican literature but in the literature of the Spanish-speaking world at the start of the twentieth-first century ... In this novel of long dark skirts, Rivera Garza imagines, like no one else has done in Mexico since José Revueltas, the tragic options and the psychic turmoil caused by revolutionary theory and action. And she does it with such an intensity, with such a grandeur that, in conjunction with Matilda, the protagonist, we must, as readers, kneel ourselves when Diamantina dies, Cástulo gets lost, and Matilda prays for them ..." —Carlos Fuentes, El País

"No One Will See Me Cry is a novel that devours you from the first page. The reader can perceive the brutal force of a story that needs to be read with all five senses . . . [Cristina Rivera-Garza] narrates lucidity and madness like two sides of the same coin. The difference between those who are crazy and those who aren't is a blurry line that readers perceive with unease." —Nagari Magazine