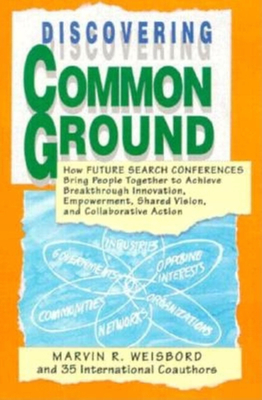 Discovering Common Ground
How Future Search Conferences Bring People Together to Achieve Breakthrough Innovation, Empowerment, Shared Vision and Collaborative Action
Paperback

* Individual store prices may vary.
Description
Copublished with Industrial Engineering and Management Press
This book brings together cases from around the world of a breakthrough new approach to strategic planning, empowerment, consensus building, and whole systems improvement. Marvin Weisbord and 35 international coauthors show how all types of business, government, and nonprofit organizations are successfully using this approach to create shared vision, innovation, commitment, and collaborative action that exceed what people thought possible.
In this approach-called "future searches" or "search conferences"-people with diverse interests who have a stake in an organization or issue come together for two or three days to explore their mutual past, present, and future in a global context. Using a self-managing format, they seek common ground among their varied interests, invent ideal futures rather than work old problems, and generate creative strategies, action plans, and commitment.
Berrett-Koehler Publishers, 9781881052081, 464pp.
Publication Date: March 7, 1995
About the Author
Marvin Weisbord consulted with business firms, medical schools, and hospitals from 1969 to 1992. He was a partner in the consulting firm Block Petrella Weisbord for 20 years and is a fellow of the World Academy of Productivity Science. Productive Workplaces (2012), now in its third edition, is considered a classic. He also authored Organizational Diagnosis (1978) and Discovering Common Ground (1992). He is co-director, along with Sandra Janoff, of Future Search Network (formerly SearchNet), an international non-profit dedicated to community service, colleagueship, and learning.
or
Not Currently Available for Direct Purchase