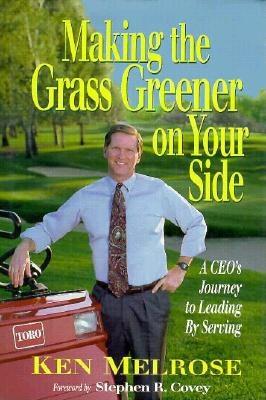 Making the Grass Greener on Your Side
Hardcover

* Individual store prices may vary.
Description
Follow Toro's history - from a peak in 1979 following unparalleled expansion and development in 1979, to the brink of disaster in 1981, and back again. Learn about the company's cut-backs and sacrifices, its self-examination, its decision to embark on the path of servant leadership, and its ultimate return to profitability and customer satisfaction. Ken Melrose recounts his own process of refining his personal commitment to leadership principles and gaining the courage to implement fundamental changes. He tells which culture initiatives and leadership strategies the company applied, which worked, and why. Melrose describes a "servant leadership" model in which leaders operate from a principle-centered base by working for and serving the rest of the organization. This approach allows employees to grow and contribute inways that best serve the long-term interests of the company. Melrose tells of both the successes and struggles in applying the model to the Toro environment.

Berrett-Koehler Publishers, 9781881052210, 235pp.
Publication Date: January 1, 1995