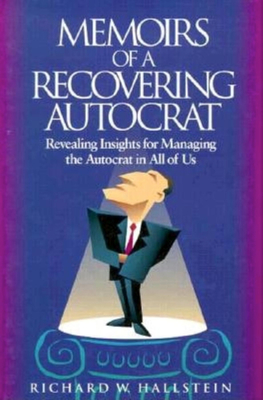 Memoirs of a Recovering Autocrat (Hardcover)
Revealing Insights for Managing the Autocrat in All of Us
Berrett-Koehler Publishers, 9781881052357, 168pp.
Publication Date: March 7, 1995
* Individual store prices may vary.
Description
Reveals how to immediately improve profits with over 100 innovative profit building ideas
We all want to be in control-of our jobs, our relationships, our lives. However, the autocratic behaviors stemming from our desire for control are proving less and less effective in today's more participative organizational cultures.

In Memoirs of a Recovering Autocrat, Richard Hallstein speaks to all of us. Through revealing anecdotes and personal examples, he helps us see the many ways in which we manifest our constant struggle for control and thereby make our work and our lives more difficult for ourselves and those around us. And he offers practical help for learning more participative styles of managing and living a more joyous and satisfying life, both personal and professional.

Written with an intimacy rare in business books, the twenty-one vignettes in this enlightening and entertaining confession evoke twinges of recognition in all of us. Through Richard Hallstein's experiences, we recognize our own autocratic behaviors-encouraging competition instead of collaboration; demanding perfection from ourselves and others; hanging on to power instead of sharing it; even surrounding ourselves with people just like ourselves in order to avoid conflict. His prescription for overcoming the autocrat within us not only creates new possibilities for getting a job done, but releases us from having to know everything, do everything, and control everything.
About the Author
Richard W. Hallstein is CEO of McLagan International, a management consulting and training firm. His previous career included 23 years' experience as a senior executive in line management, strategic planning, and human resources. He is the author of Memoirs of a Recovering Autocrat.
or
Not Currently Available for Direct Purchase