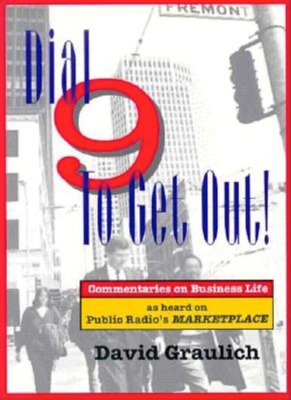 Dial 9 to Get Out!
Commentaries on Business Life as Heard on Public Radio's MARKETPLACE
Paperback

* Individual store prices may vary.
Description
Mixing warm humor, shrewd irony, and penetrating insight, commentator David Graulich gently twits the pretensions of American business and exposes the humorous truth behind the serious facade of the workplace.
Politely pointing out contradictions, unmasking absurdities, and providing badly needed perspective on the awkward situations that abound in business life, the forty-one commentaries in this book offer a humorous view of office etiquette, corporate mores, and more. Treasured as classics by Marketplace listeners, Dial 9 to Get Out! includes Graulich's pointed observations on the secrets of corporate apologies, those odd little friendships formed in the office elevator, the absurd ritual of the CEO visit, easy steps to becoming a respected guru, the universal nature of the employee lunchroom, and many more. Graulich's sharp eye for the humor in everyday interactions will appeal to anyone who has ever held a job.
Berrett-Koehler Publishers, 9781881052500, 128pp.
Publication Date: March 7, 1995
About the Author
David Graulich is president and founder of Maxfield Public Relations, a communications consulting firm based near San Francisco. He has observed the odd behavior of big organizations as a public relations manager at McKinsey & Company and Squibb Corporation. In addition to his Marketplace commentaries, he has written for The New York Times, The Wall Street Journal, and Washington Monthly. He is the author of Dial 9 to Get Out!
or
Not Currently Available for Direct Purchase