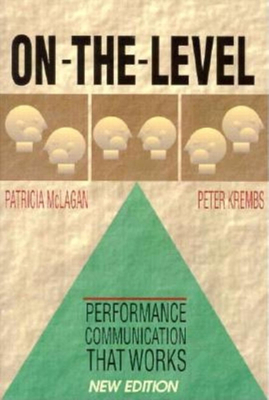 On-The-Level
Performance Communication That Works
Paperback

* Individual store prices may vary.
Description
Effective performance communication is critical to business success. It supports customer relations, quick response, and productive work. It leads to faster management of change and the creation of a work climate that can support performance. It also links individuals to business goals and each other. On-the-Level spells out proven methods for success which are based on the authors' 45 years of work and management consulting in organizations around the world. This best-selling book has been thouroughly revised and updated, incorporating the newest developments in the field of performance appraisal.

The term "on-the-level communication" refers to direct, shared responsibility, output-focused communication in the workplace. It is communication that is open, above board, honest, respectful, and deliberate. On-the-Level focuses on planned discussions between employees and managers, team members, and suppliers and customers. It provides guidelines, ideas, and examples to help readers improve the quality, skill, and honesty of their communication when discussing goals, feedback, tough issues, and development on the job. The authors stress four central principles of on-the-level communication Directness, Respect, Shared Responsibility, and Purpose.

On-the-Level is designed to help everyone in and around the workplace to plan and execute more effective and less fearful face-to-face communication. It shows how and why face-to-face, spontaneous discussions are key to continuous improvement and business success. The approach described in the book is effective in goal-setting, feedback and performance review, and development planning situations.

This book is for anyone who needs to communicate about performance issues. It provides tips and action steps for people who have difficulty talking about issues. Those who are already skilled and confident will gain new insight and practical tools.
Berrett-Koehler Publishers, 9781881052760, 192pp.
Publication Date: July 1, 1995
About the Author
Pat McLagan is an acknowledged thought leader in the areas of leadership development and complex organization change. She works with public and private sector organizations globally -- and with leadership teams -- to help expand their change capabilities. She is the second woman and the fifteenth person inducted into the Human Resource Development Hall of Fame,a member of the International Adult and Continuing Education Hall of Fame, and has received the top awards from the Association for Talent Development (formerly ASTD) and the Instructional Systems Association. She has consulted extensively on strategic change with organizations like GE, NASA, the State of Georgia, SABMiller, the Defense Intelligence Agency, and many others. Client comments: she helped do "the impossible, facilitating and mentoring the leadership team;" "it would be difficult to overstate the impact" of her work; her "dynamic leadership and know-how" helped us succeed with a critical transformation," and more.


Peter Krembs has been working as an independent consultant since 1982. He was an Organization Development specialist for Honeywell, and a partner at McLagan International prior to establishing his own consulting practice. He has designed and taught leadership development seminars for technical managers at Fortune 500 engineering, science, and computer companies, and he specializes in helping technical specialists with the transition into project leadership and management roles. He is on the faculty of G.E.'s Leadership Development Courses for G.E. businesses in Europe, Asia, India, and the United States. He is coauthor, with Patricia McLagan, of On The Level: Performance Communication That Works.
or
Not Currently Available for Direct Purchase