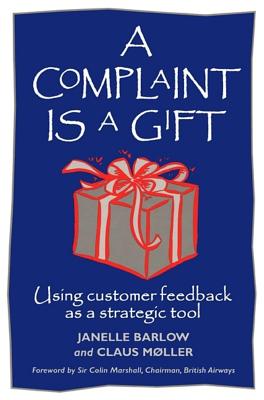 A Complaint Is a Gift (Paperback)
Using Customer Feedback as a Strategic Tool
Berrett-Koehler Publishers, 9781881052814, 232pp.
Publication Date: February 1, 1996
* Individual store prices may vary.
Description
The first edition of A Complaint Is a Gift introduced a revolutionary notion: customer complaints are a valuable feedback mechanism that can help organizations rapidly and inexpensively strengthen products, service style, and market focus. In fact, they're the best bargain around in market research.

Using numerous real-life examples, Janelle Barlow and Claus Møller show precisely how to handle complaints to bring benefit to your organization and satisfaction to your customer—even when you have to say no. The second edition features a new chapter on receiving and responding to Internet complaints; a new chapter on how to deal with and take advantage of complaints that are directed at you personally; and, turning the tables, a section on how you can complain constructively and effectively. And throughout, the text has been heavily revised, with a wealth of new examples, tools, and strategies.
About the Author
Janelle Barlow is president and owner of TMI US. She is the coauthor of Emotional Value, Smart Videoconferencing, and Branded Customer Service.
Claus Møller is the founder of TMI. He has written several books on management, which together have sold more than three million copies.
Praise For A Complaint Is a Gift: Using Customer Feedback as a Strategic Tool…
"Barlow and Møller reveal why a complaining customer can be a company's most valuable asset. And they show you exactly how to get your customer back, win a lot more business, and garner positive testimonials. If success in business is important to you, you want to read this book!"
Ron Kaufman, author and Founder of UP Your Service! College

"For businesses spending an ever-increasing amount of money researching customers' expectations, this book is a breath of fresh air. This book could have been aptly titled 'Converting Common Sense into Business Cents.' "
Paul Clark, General Manager, Customer Services, Country Energy, Australia

"A Complaint Is a Gift provides a great means for explaining how a company can provide service excellence and handle complaints through improved customer relationships, which ultimately will increase revenue and satisfaction."
Thom Ray, General Manager, British Telecom

"Everything seems so complex these days. But Barlow and Møller have taken a tough issue and made it accessible, not only in the world of business, but also in our personal lives. I will never experience a complaint as destructive again."
Russ Volckmann, PhD, Publisher and Editor, Integral Leadership Review

"In the convenience store business, after speed of delivery, service is everything. A Complaint Is a Gift drills down to the conditions necessary to make service recovery happen on a consistent basis."
Lee Barnes, President, Family Fare Convenience Stores

"This book provides an inspirational attitude shift for service employees, a how-to formula for service recovery when faced with tough complaints, and a managerial makeover."
Rick Brandon, coauthor of Survival of the Savvy

"This book treats service recovery as an art. The true test of a great brand is to lever- age the opportunity to forge a new customer relationship. Through a careful blend of analytics, business creativity, and examples, these pages will convince you that complaints truly are gifts!
Mike English, Vice President, Customer Contact Centers, Starwood Hotels & Resorts Worldwide, Inc.

"This book's concept is a mind-set that we at Royal Plaza on Scotts, Singapore have adopted to complement our brand promise. We have ingrained its importance among all our staff to be genuinely grateful for our guests' feedback, whether favor- able or not."
Patrick Garcia Fiat, General Manager, Royal Plaza on Scotts, Singapore

"This book is spot on. It gets back to the fundamentals that drive our industry. The authors take you through the process of addressing a negative guest experience and turning that same guest into a Guest for Life. The title of this book could not be truer."
Rich Hicks, President, Tin Star Restaurants

"We have one of the most spectacular sites in the world: the Sky Walk at Grand Canyon West. And we still get complaints! This book can help any organization achieve its customer experience goals. This concept works extremely well across many different cultures. This is very important today towards creating a truly international flavor regarding the customer experience."
Waylon Honga, CEO, Grand Canyon West

"This book is for any executive who understands that truly satisfied clients breed the best opportunities for more clients, A Complaint Is a Gift is a powerful tool to be shared company-wide."
Andy Jorishie, Senior Vice President, Ideas and Innovation, The Zimmerman Agency

"This book is a piece of art. I recommend it to anyone seeking excellence and learning about customer care in general and complaints in particular!"
Omran Al Shansi, Senior Complaint Manager, Emirates Telecommunications Corporation

or
Not Currently Available for Direct Purchase