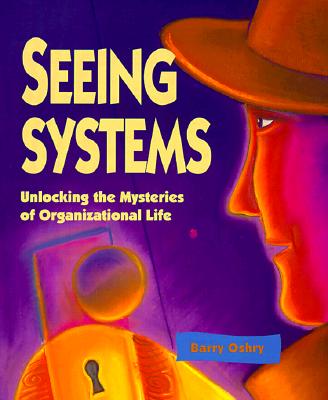 Seeing Systems (Paperback)
Unlocking the Mysteries of Organizational Life
Berrett-Koehler Publishers, 9781881052999, 228pp.
Publication Date: August 1, 1996
Other Editions of This Title:
Paperback, Large Print (4/3/2009)
Paperback, Large Print, Large Print (3/30/2009)
Hardcover (1/31/1992)
* Individual store prices may vary.
Description
In this extensively revised and updated edition of his classic book, Barry Oshry shows how we can transform "system blindness" into "system sight," enabling us to live and work together in productive partnership. Based on more than thirty years of research and packed with illustrative cases and solid systems theory on human interaction, Seeing Systems provides a penetrating look at the dynamics of systems and a unique foundation for revolutionizing our understanding of system life. This new edition features an extensive new section on having the wisdom and courage to face and work with the reality of uncertainty, and a new epilogue describing how Oshry is currently using theater, blogs, and podcasts to extend his multi-pronged revolution aimed at transforming system blindness into system sight.
About the Author
Barry Oshry is the founder of Power + Systems, Inc., developer of the Power Lab and the Organization Workshop on Creating Partnership, and the author of Leading Systems.
Praise For Seeing Systems: Unlocking the Mysteries of Organizational Life…
"Seeing Systems offers not just a framework for understanding leadership issues, but practical solutions one can actually implement in an organization."
—Scott Powers, Chief Executive Officer, Old Mutual U.S.

"It is all about relationships. Oshry recognizes this and the importance of organizational dynamics in his works. His insights offer great advice regardless of where you 'sit' in the organization. In fact, you may find that you 'sit' in a different place than you thought."
—Al Grasso, President and Chief Executive Officer, Mitre Corporation

"I have read with enormous interest Seeing Systems and must say that through many years of being involved in entities dedicated to systemic under- standing, this has been the most exciting reading."
—Dr. Enrique G. Herrscher, Honorary Professor, Universidad de Buenos Aires (UBA), former President, International Society for the Systems Sciences (ISSS)

"Precious few business books reveal know-how that fundamentally changes the way we operate and experience our world of work. Seeing Systems helps us grasp what really happens beneath the surface in organizations. Regardless of whether you are an executive, executive coach, middle manager or individual contributor, Seeing Systems provides powerful insights and applications for enhancing your effectiveness."
—Julian D. Kaufmann, Vice President, Leadership & Organization Development, Tyco International

"Seeing Systems is a much needed antidote to the personal bias that dominates much of our thinking about organizations."
—Timothy J. Giarrusso, Professor, E. Philip Saunders College of Business, Rochester Institute of Technology

"I have been a fan of Oshry's Seeing Systems for a number of years and use it extensively to engage staff in recognizing the bigger picture in their everyday activities."
—David Morhart, Deputy Minister of Public Safety and Deputy Solicitor General, Province of British Columbia

"Oshry's work has the power to transform our lives by removing the blinders we usually wear. I regularly used his books and workshops as powerful tools for our senior leaders' development. With great regularity, people reported that they felt liberated and energized once they could see the dances he describes in their personal or professional lives."
—Sabina Nawaz, former Senior Director of Leadership Development, Microsoft, and Principal, Nawaz Consulting LLC

"You never know how students will react to a book, so I wasn't prepared for the electric impact Seeing Systems had on the class. They loved it and were clearly affected by its insights and style."
—Barton Kunstler, PhD, Director, Graduate Program in Organizational and Corporate Communications, Emerson College

"We, like fish, are unaware of the medium in which we swim. Oshry takes us to a higher level, allowing us to see the systemic ocean that engulfs us. From this viewpoint, we can change the very nature of how we swim. The perspective about systems, power, and relationships hits the reader clearly and with impact. This book can make a difference in our organizations, and in our lives."
—Thomas Crum, author of The Magic of Conflict, Journey to the Center, and Three Deep Breaths

"Seeing Systems is exactly what happened for me the first time I read Oshry's work. This was the first organizational model that made sense of what I was experiencing as a manager. Not a simple laundry list of ideas or 'paradigms' but practical theories based on how people behave in the workplace. I applied Oshry's principles daily as a manager of a county jail in Washington, and I continue to apply them, in my retirement, managing large volunteer organizations."
—Lucia Meijer, former Administrator, King County North Rehabilitation Facility

"Oshry's framing of systems and the interaction between functions and levels is dead on. Seeing Systems is a close friend for everyone on our team."
—Rob Kramer, Director, Training and Development, University of North Carolina

"Oshry weaves a remarkable explanation for the subtle, and largely unseen, ways in which our structures influence our behavior. Part poetry, part philosophy, part practical advice, this book offers a creative lens for examining our own behavior."
—Marvin Weisbord, Co-Director, Future Search Network; coauthor of Future Search; and author of Productive Workplaces Revisited

"Anyone who is in the business of leading others or managing change will profit from the lenses Seeing Systems offers. They help us understand and avoid the all too common traps of disempowerment and failed partnerships. Instead of blaming others, ourselves, or the system, we learn how these organizational dynamics predictably shape our perceptions in ways that are self-defeating, and we see how we can rise above them and create relationships and organizations where collaboration can flourish."
—Dr. Gervase R. Bushe, Segal Graduate School of Business, Simon Fraser University, author of Clear Leadership and coauthor of Parallel Learning Structures

"Oshry is a genius in designing simulations of complex social systems and in constructing frameworks that generate rare insights into the simplicity that lies beyond the complexity of such systems. For systems that have a large group of employees that consider themselves to be disempowered—whether factory line workers, government bureaucrats, or orchestra musicians—Seeing Systems offers the most powerful tools I know."
—Grady McGonagil, EdD, Director of Learning, Generon Consulting

"Oshry explains in clear, convincing, and poetic language why people behave as they do in organizational life. His insights shine a bright light into the dark cave of organizational systems...and show us a way out."
—Jeffrey and Merianne Liteman, coauthors of Retreats that Work

"Seeing Systems helped me better understand my many roles; it also yielded valuable insights into the worlds of those in other positions, enabling me to adjust my behavior in ways that make me a more effective leader and follower. The book has made a lasting impression."
—Jeffrey B. Cooper, PhD, Director, Biomedical Engineering, Partners HealthCare System, Inc.

or
Not Currently Available for Direct Purchase