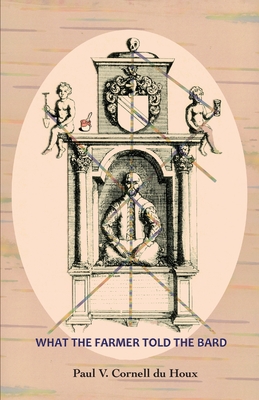 What the Farmer Told the Bard
Paperback

* Individual store prices may vary.
Description
What's It About?
"Plot is hardly the concern of this rich, dense, playful novel of philosophical, historical, and metaphysical inquiry. In Paul Cornell du Houx's book, scientists, lovers, actors, and Pagan gods face the consequences of a new invention that reveals the polarity of sex uniting all the universe's particles and upends all post-Pagan theology. The material is fascinating, but the novel offers a series of erotic setpieces, extended monologues, comic colloquies, and even extended comic erotic colloquies, all set in existence itself's jumbled slipstream of connections, rather than conventional narrative.
"The novel's chief attraction is Cornell du Houx's witty, daring, allusive prose. The accounts of action, chiefly sex, are lyric and inventive . . . The dialogue scenes can take chapters to unfold, as characters explain the Slipstream or the metaphysics of sexual connection, or discuss the figure of 'the Running Christ.' Imaginative vigor pulses through descriptive scenes in which characters encounter gods and Shakespeare's fairies . . .
"There are few philosophical erotic novels about reborn Christs, Shakespearean fairies, crop circles, Sir Lancelot, and the history of religious sacrifice-this book certainly brings fresh and unique material to the table . . . daring ideas and memorable prose." -The BookLife Prize
(Includes 25 illustrations of Shakespeare monument runes.)
Polar Bear & Company, 9781882190836, 198pp.
Publication Date: April 1, 2020