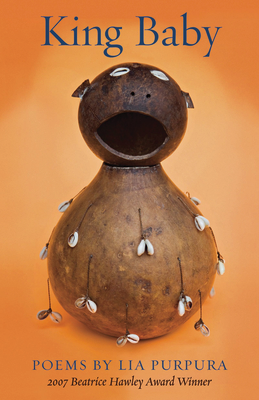 King Baby (Paperback)
Alice James Books, 9781882295685, 64pp.
Publication Date: April 1, 2008
* Individual store prices may vary.
Description
King Baby is a cycle of lyric poems both inspired by and addressed to a found object made animate--then made into a confessor--by the poet's fascination, and by a love that alternates between the familial, obsessive, and devotional.
About the Author
Lia Purpura is the author of two collections of essays, On Looking (a National Book Critics Circle Award finalist) and Increase; two previous collections of poems, Stone Sky Lifting and The Brighter the Veil; and a collection of translations. She has received NEA and Fulbright fellowships, as well as an Associated Writing Programs Award in Creative Nonfiction, the Ohio State University Press Award, and the Towson University Prize in Literature. She is Writerin-Residence at Loyola College in Baltimore, Maryland.
Praise For King Baby…
The story of your creation starts/with a force that wanted something,' Lia Purpura writes, and worked to see if you were it.' A myth of motherhood, a parable of artistic creation, a suite of hymns to an ambiguous emblem, this compelling, Orphic sequence pushes deeply into its chosen vehicle, seeking the diff erence between song and hunger."Mark Doty
"Purpura's charming [third collection]...captures both the fierce love and the flighty weirdness of life with a baby, opting always for the symbolic and the surprising over the literal record..."Publishers Weekly
"This book-length sequence is reminiscent of poems by Pulitzer Prize-winning poet Louise Glück, with its hypnotic voice and its otherworldly reach."Library Journal
"In King Baby...Purpura uses the physical as a conduit to the metaphysical; and circles this found fetish in ever-more-incisive gyres, to probe the never-satisfied nature of human yearning...She is particularly effective at distilling those elusive slithers of creative clarity we sometimes experience in our daily lives...Purpura is a wordsmith of the highest order..."Susan McCallum-Smith, WYPR Radio
"The poems are exquisitely tender and reverent, each temporarily holding emptiness in place with images and stories, each looking for something that can stand for holiness."ForeWord Magazine
"The poems in King Baby are both folk tales and found objects: every line reaches the page like Pushkin's talking goldfish. A child's discovery of a hand-carved totem frees Purpura from the daily rounds of semiotics. Like the Swedish poet Gunnar Ekelof's work, every poem in this collection reminds us that we are each still newly placed among the living."Stephen Kuusisto