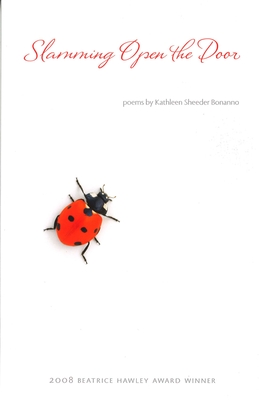 Slamming Open the Door (Paperback)
Alice James Books, 9781882295746, 61pp.
Publication Date: April 1, 2009
Description
Kathleen Sheeder Bonanno's heartrending autobiographical collection inspires both compassion for and awe of the human spirit.
About the Author
Kathleen Sheeder Bonanno is a contributing editor of The American Poetry Review and has been nominated for a Pushcart Prize for two poems from Slamming Open the Door. She currently teaches English and Creative Writing in Pennsylvania.
Praise For Slamming Open the Door…
"Readers will have to step outside of a familiar, comforting tradition of poetic grief while reading this book....To read [Slamming Open the Door] is to stand onstage with a writer who finds herself in the middle of a story in which she has been reluctantly cast."The New York Times Book Review
"I really love the poems we're about to hear. They're beautifully written. But some of them really hurt. They're about the worst thing that can happen to a mother, the murder of her child."Terry Gross, Host of Fresh Air
"Written with skill in tight, spare lines without sentimentality or melodrama, Bonanno launches readers through the experience, one that evokes a universal terror...A stunning first book."Library Journal
When Emily Dickinson wrote the line 'After great pain, a formal feeling comes' I think she was referring to poemsand the occasions that make them impossible to not writelike these. Spare, unflinching, and powerful, the poems in Slamming Open the Door move me to the bone. How does one say I love this book, which I wish never had to be written? Only one way: I love this book. I wish it did not have to be written."Thomas Lux
Advertisement