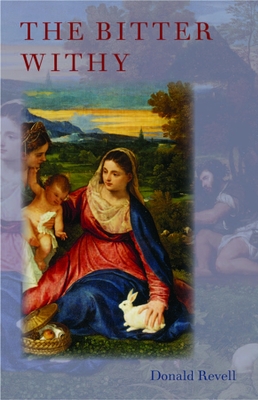 The Bitter Withy
Paperback

* Individual store prices may vary.
Description
Acclaimed poet Donald Revell continues to avow devotion to the pastoral tradition in this pilgrimage through the mind's Eden. Joy and mortality instruct these poems, using nature to inform the spirit and assemble the dream of human happiness and unification.
Praise For The Bitter Withy…
"It takes guts to write more poems about peace, war, God and children, but Revell's are so fresh, it's as if he's the first person ever to do it."TIME Magazine
"Revell is a post-Romantic, his natural imagery clear and immediate, his feelings never very far from his sleeve, his tone approaching a prayerful devotion..."Library Journal
"What I find both moving and fresh about this collection is that it handles its subject matter with a simultaneous severity and lightnessThis balance keeps the work buoyant despite its deep subject matter."CutBank
...Revell, a talented poet and translator, has finally crossed the line from strange lyricism into full-blown ecstatic prophecyThis book topped my nominations for a Nation Book Critics Circle award nod."Sacramento News and Review
Donald Revell's eleventh book is a collection of the crisp, intense poems for which he is known. The poems face the metaphysical and the religious head-on while leaving the reader with a feeling of new vision and open meditation"Poets.org
"Sincerity is risky. In an age that seems averse to that risk, these poems are welcome company."Chicago Review
"Revell's recent collections form a steady progression toward the spiritual, and this latest offering is the most thoughtful, most moving, of them all."Library Journal
"As a redoubt against mortality, The Bitter Withy maintains a vigilance toward the seen and an acceptance of the belated nature of understanding, a tenacity for things on the brink of vanishing..."Pleiades
Alice James Books, 9781882295760, 80pp.
Publication Date: September 1, 2009
About the Author
Poet, translator, and critic Donald Revell has authored ten previous collections of poetry. Winner of the 2008 NEA Translation Award, the 2004 Lenore Marshall Poetry Prize, and two-time winner of the PEN Center USA Award in Poetry, Revell has also received fellowships from the NEA, Ingram Merrill, and John Simon Guggenheim memorial foundations. He is poetry editor of the Colorado Review.