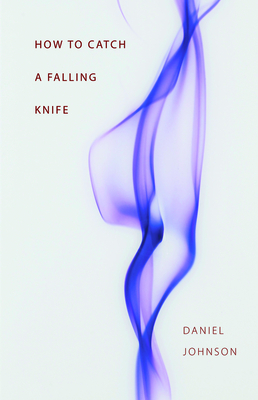 How to Catch a Falling Knife
Paperback

* Individual store prices may vary.
Description
Like an album of photographic negatives, this book is transformed by light, inhabited by family, illness, mortality, and faith. Daniel Johnson hammers plain speech into exquisite song that is celebratory, mysterious, and elegiac. This transfixing collection resounds with what's left unsaid.
Praise For How to Catch a Falling Knife…
"How to Catch a Falling Knife is a perfect title for this book: there is danger, playfulness, impossibilities made possible, and surprise, in varying doses, in every poem! Most of all though, what I end up loving most about these spare, intense poems, is their heart, their urgent, nutty, burning, utterly whole heart."Thomas Lux
"To enter the world of Daniel Johnson's How to Catch a Falling Knife is to enter a playful, celebratory, real, and dangerous place...[Johnson's] clean, pared down diction recreates real life through the lens of time passed...fearful yet warm, familiar."Gently Read Literature
"With slow imagery, fresh syntax, and dry diction, Daniel Johnson crafts a poetry that hunts absence like an animal in the quiet woods."The Weekly Dig
"It's not easy to make interesting poems, yet How to Catch a Falling Knife is full of them...I promise you'll be surprised and gratified by what you discover."Rumpus
"The greatest strength in How to Catch a Falling Knife, Daniel Johnson's first collection of poems, is its chosen silences. While that may sound like strange praise, this book's sparseness gives it a paradoxical power where the poet's ability to know what not to say and when allows what he does say to starkly shine..."New Pages
"Fans of poets as disparate as Troy Jollimore, Dean Young and Billy Collins will love Johnson's How to Catch a Falling Knifea mournful but wry homage to a childhood in the Rust Belt, to the subtle dangers of family, to overpowering love, to so many things. Johnson's voice is clear, distinct, and he creates an indelible world that could not have existed without his verse."Dave Eggers

Daniel Johnson's collection reads like a contemporary creation mythfanciful and funny and full of strong imagery, poignant surprises, narratives that lodge in the mind at the same time that they zoom us into unexpected, unpredicted places. These poems feel at once deeply introspective and completely at home in the public sphere, shaping and reshaping the sensibility of our times, introducing us to a new poetry, a voice for which we've been waiting without knowing it. This is a memorable collection by an important new poet."Laura Kasischke
Daniel Johnson's debut book has an inventive exuberance of imagery that is startling and ominous. He gives us a beautifully unpredictable account of the everyday dangers among which body and spirit must move. And he celebrates the everyday, too, with great generosity of spirit and an energetic love of our baffling, irrepressible, unbearable lives."Reginald Gibbons
Alice James Books, 9781882295791, 56pp.
Publication Date: June 1, 2010
About the Author
Daniel Johnson's poetry has appeared in journals and anthologies including The Best American Poetry 2007, The Iowa Review, American Letters & Commentary, and I Have My Own Song for It: Modern Poems of Ohio. Johnson is the founding director of 826 Boston and teaches writing in public schools, hospitals, and prisons. He lives with his wife in Cambridge, Massachusetts.
or
Not Currently Available for Direct Purchase