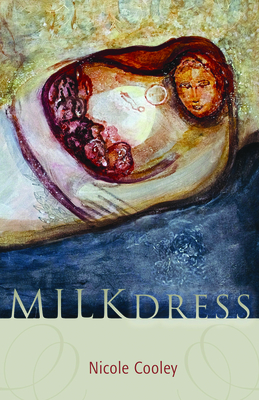 Milk Dress
Paperback

* Individual store prices may vary.
Description
In this cool, manifold chronicle of motherhood, Nicole Cooley tackles the experience of creation, occupying a new vernacular of love within danger. Her poems--animate self-reflections of both merged bodies and violent separation--confront the turbulence of fear and safety.
Praise For Milk Dress…
"Milk Dress is a meticulous chronicle of devotion and terror, love and responsibility. To watch a poet with a poet's skill address what is that which without which we would have nothing is exhilarating and what we have poetry for."Dara Wier
"...a carefully constructed book...of elegant restraint."Stride Magazine
"...luminous...easily recognized by any woman who has clasped her children..."Santa Barbara Independent, Poetry Pick for the Holidays
"[Milk Dress] strives carefully and deliberately to bring together the whole of its narrative, while pausing for just the right click of the shutter, just the right brush stroke at each image..."New Pages
"[Cooley] fuses intense feeling and scrupulous form like the best poetsthink of Dickinson and Yeatsand knocks the reader out in poem after poem, evoking tears and wonder in equal amounts."George Held
"Lush, pensive work..."The Library Journal
With gorgeous, formal control Nicole Cooley names the powerful ways in which a writer/mother is bound to history, beauty and inevitable loss. Here is a sensibility willing to inhabit terror and to make of that consciousness poems that are perfect marvels of poise and urgency, and that insist on rescuing words, hope, and meaning from oblivion."Lia Purpura
These are poems of birth and motherhood. They begin with a new life and end in a new self. They probe deep into the places where love extinguishes identity and yet renews awareness. What is so compelling here is that the arc of this journey is described with such music, craft and rigor in this wonderful collection."Eavan Boland
Alice James Books, 9781882295838, 96pp.
Publication Date: November 30, 2010
About the Author
Nicole Cooley grew up in New Orleans. Her book of poems, Breach, about Hurricane Katrina and the Gulf Coast, was published by LSU Press in April 2010. She has published three other books: Resurrection, winner of the Walt Whitman Award (LSU Press, 1996); The Afflicted Girls (LSU Press, 2004); and Judy Garland, Ginger Love (HarperCollins Publishers, 1998). She directs the MFA program in creative writing and literary translation at Queens College-City University of New York and lives in New Jersey with her husband and two young daughters.