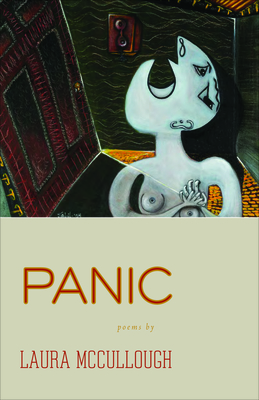 Panic
Paperback

* Individual store prices may vary.
Description
Through portraits painted in a muted palette, Panic embraces the ratcheting music of grief. Laura McCullough strives to uncover secrets beneath the platitudinal. Her narrative lyrics juxtapose private and public despair, portraying isolated stoicism against the backdrop of rippling disorder.
Praise For Panic…
"Lovely and vigilant poems lay bare those seen and unseen forces that expose us again and again to our own mortality, to our daily yearning for beauty and grace. Embracing the narrative range of a novelist, Laura McCullough writes with the razored scrutiny of the fine poet she is, making Panic a timely and important book you simply must read."Andre Dubus III
"Panic's possession of mediated joy is joy nonetheless; its strange intimacies" pull us toward the final gesture of the book, a peaceful moment in the midst of turmoil, a respite as tender and grave/ as a kiss"Pebble Lake Review
"McCullough's homage to New Jersey calls attention to the detritus of cigarette butts and pizza boxes as often as seashells and egg cases. McCullough's exploration of death lends poignancy to both."Coldfront Magazine
"Panic shows how one drop in the waterone child's death by drowning in a swimming poolripples out so far that entire communities...feel it."Kaite Hillenbrand
"...an amazing mix of fiction and poetry that's simply ferocious, in the best way."Erica Dawson
"Though at times these poems present difficult painful topics, they do so in a way that achieves the goal of all good poetry to make the reader consider language & ideas through a new lens."Kris Bigalk, Bloodlotus
"...clear and unsentimenlized..."Corduroy Books
"[McCullough] has that uncanny ability to shave terror and fear into moments that are tangent to a bizarre humor...This is poetry making of the highest order."Grady Harp
Alice James Books, 9781882295845, 67pp.
Publication Date: January 18, 2011
About the Author
Laura McCullough has published three previous collections of poetry, including Speech Acts (Black Lawrence Press), What Men Want (XOXOX Press), The Dancing Bear (Open Book Press), and a chapbook of prose poems, Elephant Anger (online from Mudlark). Her poetry, fiction, reviews, and essays have appeared in The American Poetry Review, The Writer's Chronicle, Prairie Schooner, Gulf Coast, Hotel Amerika, and other journals and magazines. A doctoral candidate at Bangor University in Wales, her scholarship focuses on the work of Stephen Dunn. She founded the Creative Writing Program at Brookdale Community College in central New Jersey.
or
Not Currently Available for Direct Purchase