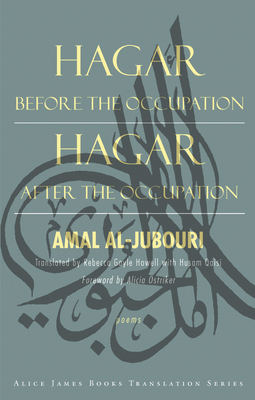 Hagar Before the Occupation/Hagar After the Occupation (Alice James Books Translation) (Paperback)
Alice James Books, 9781882295890, 140pp.
Publication Date: December 13, 2011
* Individual store prices may vary.
Description
"Through these poems, Amal al-Jubouri connects us to the earliest known poems, and yet the dialectic tension between them is utterly contemporary. Al-Jubouri writes 'This is my protest, this is my folly, ' yet these poems are neither simple protest nor in any sense folly. These poems are both essential and eternal."--Nick Flynn
This translation of Iraqi author Amal al-Jubouri contextualizes America's occupation of Iraq through the Qur'an's story of Hagar. Complementary pairs of poems portray life before and after the war. This work simultaneously mirrors Hagar's desperate running between Safa and Marwah, as we pace frantically between pre- and post-occupation Iraq--the poet begging in vain for poetry not to abandon her people.
Honor before the occupation
Worship the Leader
Love the Party
Curse America, the siege
Honor after the occupation
Curse the Dictator
Forsake the Party
Clap with flowers in your hand for America, her wall
Amal al-Jubouri, a native of Iraq, is the author of five collections of poetry including Wine from Wounds; Words, Set Me Free ; Enheduanna, Priestess of Exile; and 99 Veils. In 1997 she took asylum in Germany after having been listed first on Uday Hussein's list of renegade Iraqi writers and was the first Iraqi writer to return to Baghdad, two days after the fall of the regime. The founder and editor-in-chief of al-Diwan, the first and only Arab-German literary magazine, she is president of the East-West Diwan German Cultural Foundation and acts as cultural counselor for the Yemen Embassy in Berlin.