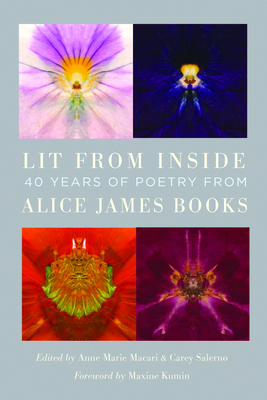 Lit from Inside: 40 Years of Poetry from Alice James Books (Paperback)
40 Years of Poetry from Alice James Books
Alice James Books, 9781882295968, 334pp.
Publication Date: February 5, 2013
Description
This distinctive anthology from a foremost American literary press is a must-have for all serious readers of contemporary poetry.
About the Author
Anne Marie Macari's most recent book, "She Heads Into the Wilderness," was published in 2008 by Autumn House Press. She is also the author of "Gloryland" (Alice James Books, 2005), and "Ivory Cradle, " which won the APR/Honickman First Book Prize in 2000. Macari's work has been widely published in magazines including "Poetry International," "The American Poetry Review," "Five Points," "TriQuarterly," "Bloomsbury Review," "Shenandoah," "The Cortland Review," "The Iowa Review," and in anthologies including "From the Fishouse" (Persea Books, 2009) and "Never Before: Poems About First Experiences" (Four Way Books). Macari founded and teaches in the low-residency MFA program in poetry and poetry in translation at Drew University.

Carey Salerno is the Executive Director of Alice James Books. She earned an MFA in Poetry from New England College, and teaches for the BFA program at the University of Maine at Farmington. Her first poetry collection, "Shelter," won a 2007 Kinereth Gensler Award and was published in 2009. Salerno lives in western Maine with her husband and two dogs, Daisy and Gatsby.

Former US Poet Laureate, Maxine Kumin, winner of the Pulitzer and Ruth Lilly prizes, is the author of "Where I Live: New & Selected Poems 1990-2010 "(Norton), her 17th volume, which won the 2011 "L.A. Times" poetry book prize. She has taught at MIT, Brandeis, Princeton, Columbia, Washington University of St. Louis, and served on the Bread Loaf Writers Conference faculty for seven years. She and her husband live on a farm in New Hampshire.
Advertisement