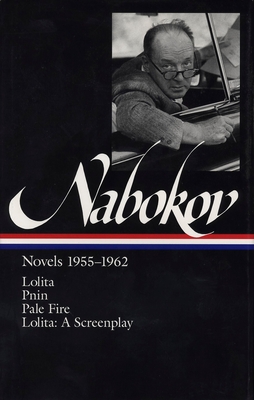 Vladimir Nabokov: Novels 1955-1962: Lolita / Lolita (Screenplay) / Pnin / Pale Fire (Hardcover)
Novels 1955-1962: Lolita / Lolita (Screenplay) / Pnin / Pale Fire
Library of America, 9781883011192, 916pp.
Publication Date: October 1, 1996
Description
Lolita (1955), Nabokov's single most famous work, is one of the most controversial and widely read books of its time. Funny, satiric, poignant, filled with allusions to earlier American writers, it is the "confession" of a middle-aged, sophisticated European emigre's passionate obsession with a 12-year-old American "nymphet", and the story of their wanderings across a late 1940s America of highways and motels. Pnin (1957) is a comic masterpiece about a gentle bald Russian emigre professor in an American college town who is never quite able to master its language, its politics, or its train schedule. Pale Fire (1962) is a tour de force in the form of an ostensibly autobiographical poem by a recently deceased American poet and a critical commentary by an academic who is something other than what he seems. The texts of this volume incorporate Nabokov's penciled corrections in his own copies of his works and correct long-standing errors. They are the most authoritative versions available and have been prepared with the assistance of Dmitri Nabokov, the novelist's son, and Brian Boyd, Nabokov's award-winning biographer, who has also contributed notes and a detailed chronology of the author's life based on new research.

About the Author
After a brilliant literary career writing in Russian, Vladimir Nabokov (1899-1977) immigrated to the United States in 1940 and went on to an even more brilliant one in English. Between 1939 and 1974 he wrote the autobiography and eight novels collected by the Library of America in an authoritative three-volume set. Brian Boyd is a Distinguished Professor in the Department of English at the University of Auckland, New Zealand, and is the author of Nabokov's Pale Fire: The Magic of Artistic Discovery.
Advertisement