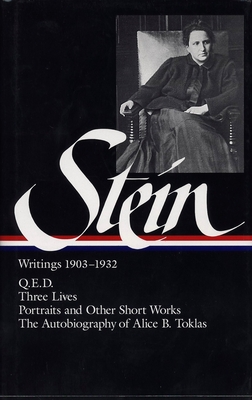 Gertrude Stein
Writings 1903-1932 (LOA #99): Q.E.D. / Three Lives / Portraits and Other Short Works / The Autobiography of Alice B. Toklas (Library of America Gertrude Stein Edition #1)
Hardcover

* Individual store prices may vary.
Description
This Library of America volume, along with its companion, surveys a literary trajectory that from the beginning of the 20th century to the end of World War II marked Gertrude Stein as a fearless and uncompromising experimenter. She was also a master of anecdote and aphorism, many of whose phrases—from "rose is a rose is a rose" to "there is no there there" and "when this you see remember me"—have passed into the language.

This first volume, containing works written between 1903 and 1932, takes Stein from her first, more traditional fictional works to the exuberant and astonishing experiments of the early Paris years. She was a devoted student of William James, with whom she studied psychology at Radcliffe in the 1890s, and took an early interest in memory and the function of repetition in human character. In her early works, she sought a new kind of realism exemplified here by Q.E.D. (written 1903, published posthumously), a novel about lesbian entanglements at college, and the modern classic Three Lives (1909), a set of novellas about the lives of three ordinary women, described in the simplest and most direct of prose.

In her brilliant abstract "portraits" Stein uses an extraordinary array of verbal techniques to evoke those friends and collaborators—Matisse, Picasso, Apollinaire, Juan Gris, Satie, Mabel Dodge, Carl Van Vechten, Sherwood Anderson, Virgil Thomson—with whom she shared decades of revolutionary ferment in the arts. Her play Four Saints in Three Acts (1927), which became the basis for an opera by Virgil Thomson, is written for a freewheeling theater of the mind where everything becomes possible. In "Lifting Belly" and other works she joyously celebrates her lifelong relationship with Alice B. Toklas, one of the most famous domestic partnerships of that century. The Autobiography of Alice B. Toklas (1933), Stein's oblique and playful memoir, became an immediate bestseller and sealed Stein's international celebrity.

LIBRARY OF AMERICA is an independent nonprofit cultural organization founded in 1979 to preserve our nation's literary heritage by publishing, and keeping permanently in print, America's best and most significant writing. The Library of America series includes more than 300 volumes to date, authoritative editions that average 1,000 pages in length, feature cloth covers, sewn bindings, and ribbon markers, and are printed on premium acid-free paper that will last for centuries.
Praise For Gertrude Stein: Writings 1903-1932 (LOA #99): Q.E.D. / Three Lives / Portraits and Other Short Works / The Autobiography of Alice B. Toklas (Library of America Gertrude Stein Edition #1)…
"Few have left their mark on this century's literature as has Gertrude Stein. More than just influencing prose and poetry as one of our premier innovators of language, she is, you could say, one of the figures who invented 20th-century writing." —Library Journal
Library of America, 9781883011406, 941pp.
Publication Date: March 1, 1998
About the Author
Gertrude Stein was born in Allegheny, Pennsylvania, on February 3, 1874, to an affluent Jewish family, spent her early childhood in Vienna and Paris, and later grew up in Oakland, California. Her first important book was Three Lives (1909), then Tender Buttons (1914), followed by her magnum opus, The Making of Americans (1925), and the book which became a huge popular success, The Autobiography of Alice B. Toklas (1933). Just before her death at the age of 72 on July 27, 1946, she asked Alice Toklas from her hospital bed, "What is the answer?" Getting no answer, she then asked, "In that case, what is the question?"

Catharine R. Stimpson and Harriet Chessman, volume editors, are Dean of the New York University School of Arts and Sciences and the author of Someone Not Really Her Mother, respectively.
or
Not Currently Available for Direct Purchase