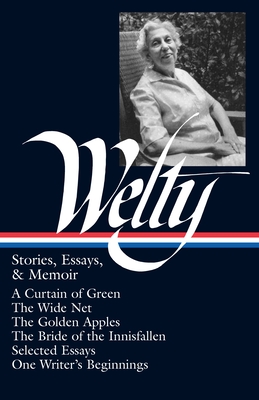 Eudora Welty: Stories, Essays, & Memoirs: A Curtain of Green / The Wide Net / The Golden Apples / The Bride of Innisfallen / Selected Essays / One Wri (Hardcover)
Stories, Essays, & Memoirs: A Curtain of Green / The Wide Net / The Golden Apples / The Bride of Innisfallen / Selected Essays / One Wri
Library of America, 9781883011550, 980pp.
Publication Date: August 1, 1998
Description
"Stories, Essays, and Memoir" contains all of Welty's collected short stories, her first book, "A Curtain of Green and Other Stories" (1941), stories based on her travels, and the ever-popular memoir, "One Writer's Beginnings" (1984).

About the Author
Eudora Welty (1909-2001) was the author of novels, short stories, memoirs, and essays, including such celebrated works as The Optimist's Daughter, which won the Pulitzer Prize for Fiction in 1973. In 1998 she became the first living writer to have her works published in the Library of America series. Richard Ford is the Pulitzer-Prize winning author of the Bascombe novels and the New York Times best-selling Canada and Let Me Be Frank With You. Michael Kreyling is professor of English at Vanderbilt University and the author of Inventing Southern Literature and Understanding Eudora Welty.
Advertisement