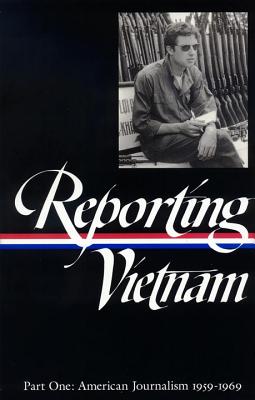 Reporting Vietnam Vol. 1 (LOA #104)
American Journalism 1959-1969 (Library of America Classic Journalism Collection #3)
Hardcover

* Individual store prices may vary.
Description
First published for the twenty-fifth anniversary of the fall of Saigon, this unique two-volume anthology from the Library of America evokes a turbulent and controversial period in American history and journalism.

Drawn from original newspaper and magazine reports and contemporary books, this volume along with its companion brings together the work of over eighty remarkable writers to create an unprecedented mosaic view of the war and its impact on an increasingly fractured American society.

The first volume traces the deepening American involvement in South Vietnam from the first deaths of American advisers in 1959 through the controversial battle of "Hamburger Hill" in 1969. Malcolm Browne, Neil Sheehan, and David Halberstam report on the guerrilla warfare of the early 1960s; Jack P. Smith, Ward Just, and Peter Arnett experience the terrors of close-range combat in the Central Highlands; Marguerite Higgins and Frances FitzGerald observe South Vietnamese politics; Jonathan Schell records the destructive effects of American firepower in Quang Ngai; Tom Wolfe captures the cool courage of navy pilots over North Vietnam.

Writers who covered the bitter controversy at home are included as well—Meg Greenfield describing an early teach-in, Norman Mailer at the Pentagon March, Jeffrey Blankfort exploring the sorrowful impact of the war on a small town in Ohio. Thomas Johnson and Wallace Terry examine the changing attitudes of African-American soldiers fighting America's first fully integrated war.

Included in full is Daniel Lang's Casualties of War, the haunting story of a five-man reconnaissance patrol choosing between good and evil.

This volume contains a detailed chronology of the war, historical maps, biographical profiles of the journalists, explanatory notes, a glossary of military terms, an index, and a 32-page insert of photographs of the correspondents, many from private collections and never before seen.

LIBRARY OF AMERICA is an independent nonprofit cultural organization founded in 1979 to preserve our nation's literary heritage by publishing, and keeping permanently in print, America's best and most significant writing. The Library of America series includes more than 300 volumes to date, authoritative editions that average 1,000 pages in length, feature cloth covers, sewn bindings, and ribbon markers, and are printed on premium acid-free paper that will last for centuries.
Praise For Reporting Vietnam Vol. 1 (LOA #104): American Journalism 1959-1969 (Library of America Classic Journalism Collection #3)…
"Historians and students will find Reporting Vietnam to be a rich and handy reference. For others, it will be—with 25-plus years of hindsight—simply fascinating reading. Some of it may bring a tear. Bits of it may cause a chuckle. All of it will provoke thought." —USA Today
Library of America, 9781883011581, 858pp.
Publication Date: October 1, 1998
About the Author
The editorial advisory board for Reporting Vietnam includes Milton J. Bates, professor of English at Marquette University; Lawrence Lichty, professor of radio, television, and film at Northwestern University; Paul L. Miles, professor of history at Princeton University; Ronald H. Spector, professor of history and international affairs at George Washington University; and Marilyn B. Young (1937–2017), professor of history at New York University.
or
Not Currently Available for Direct Purchase