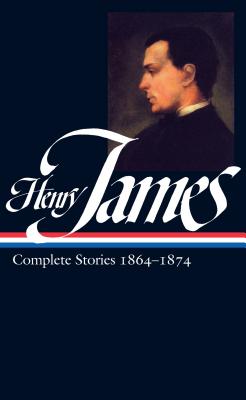 Henry James
Complete Stories Vol. 1 1864-1874 (LOA #111) (Library of America Complete Stories of Henry James #1)
Hardcover

* Individual store prices may vary.
Other Editions of This Title:
Hardcover (1/1/1996)
Hardcover (1/11/1999)
Hardcover (1/11/1999)
Description
"A dignified and impressive addition to your bookshelf that reveals James's virtuoso performance in a genre he helped to define, refine and elevate." — The Commercial Appeal

This Library of America volume, the first of five of Henry James's short fiction, brings together his first twenty-four published stories, thirteen never collected by James.

Encompassing a wide range of subjects, settings, and formal techniques, they show the first explorations of some of James's most significant themes: the force of social convention and the compromises it demands; the complex and often ambiguous encounter between Europe and America; the energies of passion measured against the rigors of artistic discipline.

By his mid-twenties, James was a regular contributor to the most prestigious and popular magazines of his era. He is equally at ease writing historical tales, such as "Gabrielle de Bergerac," a love story set in pre-Revolutionary France, as he is exploring contemporary events, as in the three stories that treat the effects of the American Civil War on civilians.

James's psychological acuity is already evident in "Master Eustace," a study of the ruthlessness of a spoiled child, and in "Guest's Confession," where the comic portrayal of an arrogant businessman hints at his cruelty and self-absorption. In "The Romance of Certain Old Clothes," and "The Last of the Valerii," James begins to work with the supernatural and fantastic motifs that would continue to surface in his work. Early examples of James's lifelong fascination with art and artists include "A Landscape Painter," about a young painter's attraction to a seemingly simple family living in a desolate coastal town, and "The Madonna of the Future," where an aging artist avoids the unveiling of his masterpiece.

Adumbrating later triumphs and compelling in their own right, these stories reveal and accomplished and cosmopolitan young talent mastering the art of the short story.

LIBRARY OF AMERICA is an independent nonprofit cultural organization founded in 1979 to preserve our nation's literary heritage by publishing, and keeping permanently in print, America's best and most significant writing. The Library of America series includes more than 300 volumes to date, authoritative editions that average 1,000 pages in length, feature cloth covers, sewn bindings, and ribbon markers, and are printed on premium acid-free paper that will last for centuries.
Library of America, 9781883011703, 975pp.
Publication Date: August 30, 1999
About the Author
Henry James
(1843-1916), born in New York City, was the son of noted religious philosopher Henry James, Sr., and brother of eminent psychologist and philosopher William James. He spent his early life in America and studied in Geneva, London and Paris during his adolescence to gain the worldly experience so prized by his father. He lived in Newport, went briefly to Harvard Law School, and in 1864 began to contribute both criticism and tales to magazines.
In 1869, and then in 1872-74, he paid visits to Europe and began his first novel, Roderick Hudson. Late in 1875 he settled in Paris, where he met Turgenev, Flaubert, and Zola, and wrote The American (1877). In December 1876 he moved to London, where two years later he achieved international fame with Daisy Miller. Other famous works include Washington Square (1880), The Portrait of a Lady (1881), The Princess Casamassima (1886), The Aspern Papers (1888), The Turn of the Screw (1898), and three large novels of the new century, The Wings of the Dove (1902), The Ambassadors (1903) and The Golden Bowl (1904). In 1905 he revisited the United States and wrote The American Scene (1907).
During his career he also wrote many works of criticism and travel. Although old and ailing, he threw himself into war work in 1914, and in 1915, a few months before his death, he became a British subject. In 1916 King George V conferred the Order of Merit on him. He died in London in February 1916.
or
Not Currently Available for Direct Purchase