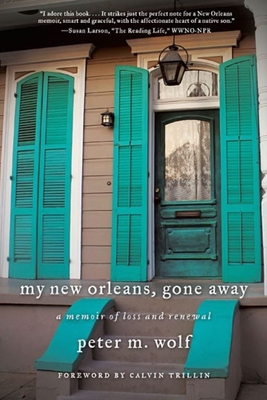 My New Orleans, Gone Away (Hardcover)
A Memoir of Loss and Renewal
Delphinium Books, 9781883285562, 322pp.
Publication Date: July 9, 2013
* Individual store prices may vary.
or
Not Currently Available for Direct Purchase
Description
"A heartfelt, intimate, and painfully honest account of the coming of age of one shy boy and of the exotic city he left behind, but will never forget. A story of the courage of breaking away and the "you are there" descriptions of places and people that make the reader part of this narrative of struggle and triumph."
-Barbara Goldsmith, author of the bestselling "Little Gloria, Happy at Last"
In this poignant and vivid memoir, Peter M. Wolf, a member of one of New Orleans's oldest Jewish families, recreates the sights, sounds, tastes and simultaneously provides an insider's look at this fabled city, so damaged and changing in the wake of Katrina. Reflecting the yearnings and anxieties of a generation that came of age after World War II, this is the iconic journey of a restless man who leaves the hometown he loves to discover the world and in so doing, to find himself.
Wolf recalls his idyllic though anxious southern childhood, the emotional remoteness of his nighttime-loving parents that leaves him with a tenuous sense of security. He turns to his neighborhood and school buddies, to the embracing warmth of his family's African-American housekeeper, and to the weekends he spends with his adoring grandparents at their home in Pass Christian on the gulf coast of Mississippi.
During undergraduate years at Yale, the author's close friends come to include Calvin Trillin, the humorist-to-be; Henry Geldzahler, the future celebrated art historian; and Gerald Jonas, who would become a writer for The New Yorker magazine. Each from a more traditional Jewish family, through exposure to these important people in his life, Wolf becomes acutely aware of his city's inflexibly stratified religious and racial structure.
After a year of medical school at Columbia, and continuing his journey of self-discovery, as he briefly works for his father's cotton brokerage, Wolf reveals the last vestiges of the cotton business in the south. In spite of a spicy love affair, his residence in the French Quarter, and growing prominence in his community, unwilling to remain in New Orleans, Wolf returns to the east to earn a doctorat and become an architectural historian, a profession in which he earns great distinction.
Written with humor and telling detail, My New Orleans offers direct and memorable insight into a lost period of America's evolution, turbulence and possibilities as unique and to-be-longed-for as the city of Wolf's memory.
Praise For My New Orleans, Gone Away: A Memoir of Loss and Renewal…
"I adore this book and read it in a kind of dreamy fog, unable to put it down and think of anything else. It strikes just the perfect note for a New Orleans memoir, smart and graceful, with the affectionate heart of a native son and the clear eyes and keen intelligence of a scholar of cities. And it's a very brave book, coming from a man who's struggled and taken risks for his passions. What a lovely way Peter Wolf has found to reconcile his past and present selves!" -Susan Larson, The Reading Life, WWNO


"A heartfelt, intimate, and painfully honest account of the coming of age of one shy boy and of the exotic city he left behind, but will never forget. A story of the courage of breaking away and the "you are there" descriptions of places and people that make the reader part of this narrative of struggle and triumph." -Barbara Goldsmith, Author and Historian


"Peter Wolf's book is a charming, insightful memoir, which is beautifully written and descriptive of what it was like up to grow up Jewish in New Orleans in the mid-20th century. Peter's journey from the Big Easy to Exeter, Yale, New York, Paris, and back to New Orleans makes for fascinating reading. His background as a onetime medical student, cotton broker, and student of art history and architecture indicates the breadth and depth of his interests and life experiences. This is a book worth reading for those who enjoy memoirs steeped with interesting people, places and experiences." –Scott Cowen, President, Tulane University


"Peter Wolf has planned communities, and written meaningfully about the importance of place, for much of his life. In New Orleans: Gone Away, you realize where it all comes from, and how powerfully the aura of New Orleans has influenced everything he has done. This book weaves together Wolf's family, his travels, and his career as a writer, art historian, and planner into a story that is personal and intimate, yet addresses something that matters to every one of us: the compelling theme of home, and how all of us are shaped by it." –Paul Goldberger, architecture critic, Pulitzer Prize winner
Advertisement