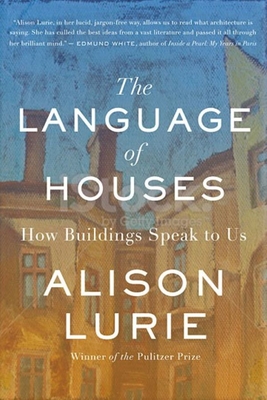 The Language of Houses
Hardcover

* Individual store prices may vary.
Other Editions of This Title:
Paperback (9/8/2015)
Description
In 1981 Alison Lurie published The Language of Clothes, a meditation on costume and fashion as an expression of history, social status and individual psychology. Amusing, enlightening and full of literary allusion, the book was highly praised and widely anthologized.
Now Lurie has returned with a companion book, The Language of Houses, a lucid, provocative and entertaining look at how the architecture of buildings and the spaces within them both reflect and affect the people who inhabit them. Schools, churches, government buildings, museums, prisons, hospitals, restaurants, and of course, houses and apartments—all of them speak to human experience in vital and varied ways.
The Language of Houses discusses historical and regional styles and the use of materials such as stone and wood and concrete, as well as contemplating the roles of stairs and mirrors, windows and doors, tiny rooms and cathedral-like expanses, illustrating its conclusions with illuminating literary references and the comments of experts in the field.
Accompanied by lighthearted original drawings, The Language of Houses is an essential and highly entertaining new contribution to the literature of modern architecture.
Praise For The Language of Houses…
"The Language of Houses …. makes a powerful argument that how we choose to order the space we live and work in reveals far more about us.… full of mischievous apercus, and Ms. Lurie at her best is bracingly subversive….a mine of adroit observation, uncovering apparently humdrum details to reveal their unexpected, and occasionally poignant, human meaning." — Wall Street Journal
". . . a book meticulously packed with facts, paradoxes and observations. . . . a rich compendium of information, exploring how we inhabit our homes, our offices and our places of learning, leisure and worship, from every conceivable angle, in neatly organized chapters addressing each category of building." — Seattle Times
"Lurie maintains a light touch with such damning observations. . . One of the book's best chapters treats public high schools. . . .its insights into our vanity, and capacity for almost negligent public construction, are ripe for the gleaning." — Boston Globe
" The Language of Houses has every quality you would expect from a work by Alison Lurie: intelligence, authority, wit and charm." — Louis Begley
"Alison Lurie, in her lucid, jargon-free way, allows us to read what architecture is saying. She has culled the best ideas from a vast secondary literature and passed it all through the sieve of her brilliant mind." — Edmund White, author of Inside a Pearl: My Years in Paris
"There's much to absorb in this sequel to Alison Lurie's The Language of Clothes, but The Language of Houses is an extraordinarily absorbing book—it wears its learning lightly, holding this reader's attention the way a fine novel does. I was particularly fascinated by the linked chapters on religious buildings and museums." — James McConkey, author of Court of Memory
Delphinium, 9781883285609, 304pp.
Publication Date: August 19, 2014
About the Author
Alison Lurie, who won the Pulitzer Prize for her novel Foreign Affairs, has published ten books of fiction, four works of non-fiction, and three collections of tales for children. She is a former professor of English at Cornell University, and lives in an old house in upstate New York with her husband, the Writer, Edward Hower.
or
Not Currently Available for Direct Purchase