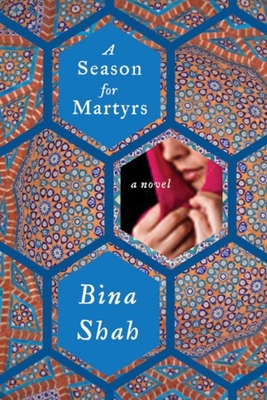 A Season for Martyrs (Paperback)
Delphinium, 9781883285616, 288pp.
Publication Date: November 4, 2014
* Individual store prices may vary.
Description
The U.S. literary debut of an up-and-coming Pakistani novelist and journalist.
Ali Sikandar is assigned to cover the arrival of Benazir Bhutto, the opposition leader who has returned home to Karachi after eight years of exile to take part in the presidential race. Already eager to leave for college in the U.S. and marry his forbidden Hindu girlfriend, Ali loses a friend in a horrific explosion and finds himself swept up in events larger than his individual struggle for identity and love when he joins the People's Resistance Movement, a group that opposes President Musharraf. Amidst deadly terrorist attacks and protest marches, this contemporary narrative thread weaves in flashbacks that chronicle the deep and beautiful tales of Pakistani history, of the mythical gods who once protected this land. Bina Shah, a journalist herself and now a NYT op-ed writer, illustrates with extraordinary depth and keen observation into daily life the many contradictions of a country struggling to make peace with itself.
About the Author
Bina Shah has recently become a regular contributor to the International New York Times. She is a Pakistani writer who is a frequent guest on the BBC. She has contributed essays to Granta, The Independent, and The Guardian and writes a monthly column for Dawn, the top English-language newspaper in Pakistan. She holds degrees from Wellesley College and the Harvard Graduate School of Education, and is an alumna of the University of Iowa's International Writers Workshop. Her novel Slum Child was a bestseller in Italy, and she has been published in English, Spanish, German and Italian. A Season for Martyrs is her U.S. debut. She lives in Karachi.
Praise For A Season for Martyrs…
10 AMAZING FEMALE NOVELISS UNDER 50 according to Buzzfeed: "Riveting and articulate, A Season for Martyrs by Pakistani journalist Bina Shah is the author's debut novel for an American readership and clearly denotes her ability to deftly craft and complex storey of suspenseful twists and unexpected turns that holds the reader's total attention from beginning to end. Very highly recommended for personal reading lists."
— Buzzfeed

"Shah writes with grace and fluency, and it is clear from the start that her book reflects a maturity in style and skill at plot-management that are the hallmarks of the seasoned writer. Shah writes about her native soil as only an insider can. What gives the novel additional warmth and luster is the manner in which she portrays legendary Sindhi heroes….Unlike some female writers, Shah demonstrates skill at authentically depicting a staggering variety of male characters. The ability to transfer masculinity to paper is a rare trait.. . .A Season for Martyrs undoubtedly deserves much praise and will not disappoint readers."
— Midwest Book Review

A LIBRARY JOURNAL TOP INDIE FICTION FOR FALL 2014: "Good reading, urgently and cleanly told, for those interested in world events, as well as issues of identity and place in community."
— Library Journal

"Shah's spirited novel is set in modern Pakistan and is steeped in its rich Sindhi heritage and culture. As it hurtles toward its violent climax, Shah's novel is both fascinating and eye-opening."
— Publishers Weekly

"Shah's (Slum Child) spirited novel is set in modern Pakistan and is steeped in its rich Sindhi heritage and culture. Twenty-five-year old Ali Sikandar works as a TV journalist for the City24 News station in Karachi when Benazir Bhutto, Pakistan's charismatic former Prime Minister, makes her triumphant return home from her exile in October 2007. As the eldest son of the Sikandar family, Ali becomes the patriarch after his father, a wealthy Sindhi landowner, abandons his wife and children to marry a second, younger wife. Ali, who is Muslim, has a Hindu girlfriend, Sunita Lalwani, and they have to shield their relationship from their families. Ali also conceals his Sindhi feudal class origins from Sunita due to the public's negative opinion of the Sindhis. Ali chafes under his burdensome responsibilities and secretly makes plans to escape and study business administration abroad in the United States, but has an abrupt change of heart at the last minute, despite his crumbling relationship with Sunita. When President Musharraf shuts down his TV station, the politically indifferent Ali takes a new interest in Bhutto's celebrated reentry, and finding a new purpose, he pours his soul into Bhutto's reformist campaign at considerable personal risk. As it hurtles toward its violent climax, Shah's novel is both fascinating and eye-opening."
— Publishers Weekly

"Though Karachi-based novelist Shah writes in English and was raised partly in America, where she received her higher education, this is her U.S. debut. Her new novel focuses on former prime minister Benazir Bhutto's October 2007 return to Pakistan after eight years in exile, an event covered at first reluctantly by TV journalist Ali Sikandar, whose feudal family has ties to the Bhuttos. Scenes dating as far back as the 900s give readers a sense of Pakistan's history and precarious present. VERDICT Good reading, urgently and cleanly told, for those interested in world events, as well as issues of identity and place in community."
— Library Journal

"In A Season for Martyrs, Bina Shah mixes myth with history and the personal with the political to sing of Sindh in the past and mourn for Pakistan in the present: a musical and mesmerizing work."
— TABISH KHAIR, author of How to Fight Islamist Terror from the Missionary Position

"A Season for Martyrs not only tells an excellent story, set in the last three months of Benazir Bhutto's life, but deftly interweaves it with the myths of the Sufi saints, who are buried and remembered in the Sindh province of Pakistan. The historical and mythical aspects of this important novel are to be savored: Bina Shah is an admirable writer."
— BAPSI SIDHWA, author of Cracking India

"An intriguing novel that blends events in contemporary Pakistan with ancient Sindh . . . Bina Shah has drawn heavily on her own cultural heritage, rich in its diversity and contradictions."
— VICTORIA SCHOFIELD, author of Kashmir in the Conflict, Afghan Frontier and Bhutto: Trial and Execution

"In her U.S. debut, Shah embarks on an epic narrative . . . often written beautifully in the melodic style of oral storytelling. . . . ambitious in scope, A Season for Martyrs elegantly mixes both the pathos and grace that make up the soul of (Pakistan.)"
— Booklist

"Listen to the voice of Bina Shah- you will hear a young, confident, compassionate new Pakistan. Her latest novel not only sparkles with wit and wisdom but is a deeply moving paean to the power of love for the author's Pakistani culture and people."
— Professor Akbar Ahmed, author, playwright, poet, and Chair of Islamic Studies at American University
or
Not Currently Available for Direct Purchase