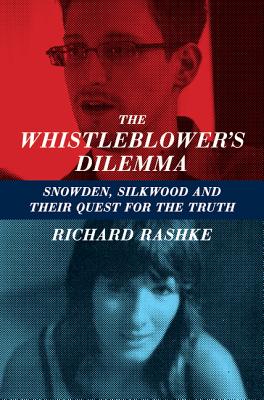 The Whistleblower's Dilemma
Snowden, Silkwood And Their Quest For the Truth
Paperback

* Individual store prices may vary.
Description
In June of 2013, Edward Snowden, a 29-year-old former CIA employee, thrust himself into the spotlight when he leaked thousands of top secret National Security Agency (NSA) documents to the journalist, Glen Greenwald. Immediately branded as a whistleblower, Snowden reignited an international debate about private citizens who reveal government secrets that should be exposed but may endanger the lives of citizens. Like the late Karen Silkwood, whose death in a car accident while bringing incriminating evidence against her employer to a meeting with a New York Times reporter, is still a mystery, Snowden was intent upon revealing the controversial practices of his employer, a government contractor. Rightly or wrongly, Snowden and Silkwood believed that their revelations would save lives. In his riveting, thought-provoking book, Richard Rashke weaves between the lives of these two controversial figures and creates a narrative context for a discussion of what constitutes a citizen's duty to reveal or not to reveal. He asks the question: can our government regulators, our politicians, our military-intelligence and our profit-oriented corporations be trusted to protect us from harm as well as safeguard our privacy?
Praise For The Whistleblower's Dilemma: Snowden, Silkwood And Their Quest For the Truth…
PRAISE FOR The Killing of Karen Silkwood: "This riveting book gets beyond the surface facts and simple emotions of the Silkwood case to the fundamental and in some cases frightening aspect of a story that may never be completely told." — Christian Science Monitor
"An impressive and vital new book, or better yet, just call it 'impressive and vital. . .' meets a demanding test of objectivity." — Washington Post
"An admirable job of separating what is fact. . .from supposition, what is theory from what is documented evidence. For that alone, the book is valuable." — New Republic
"Nobody – not Ian Fleming, not Agatha Christie – could have concocted a murder mystery/spy thriller as intriguing as the Karen Silkwood story." — The Trial Diplomacy Journal
"First-rate reporting and tight, edgy writing." — Kirkus Reviews
"A true-life thriller. . . raises serious and disturbing questions." — Playboy
"Exciting. . .important." — Boston Globe
"A powerful indictment of one nuclear corporation and the nuclear industry as a whole." — Library Journal
"Chilling." — Atlantic Monthly
"Suspense is ever-present. Shocks are electric." — San Francisco Chronicle
"This jam-packed little thriller has all the elements of a best-selling novel. . .There is one catch. It's all true." — Florida Sun-Sentinel
Delphinium, 9781883285685, 288pp.
Publication Date: December 8, 2015
About the Author
Richard Rashke is the author of several nonfiction books including The Killing of Karen Silkwood, Useful Enemies, and Escape from Sobibor. His books have been translated into eleven languages and have been adapted for stage and screen (Silkwood was made into the Academy Award-winning film starring Meryl Streep; Escape from Sobibor was made into an acclaimed ten part mini-series). Rashke is also a screenwriter and a playwright whose work has appeared on network television as well as in theaters in New York, Washington and Miami. He lives in Washington, D.C.
or
Not Currently Available for Direct Purchase