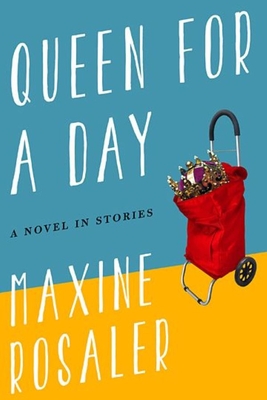 Queen for a Day
Hardcover

* Individual store prices may vary.
Other Editions of This Title:
Paperback (6/11/2019)
MP3 CD (10/29/2019)
Description
The reader knows by page one of Queen for a Day that Mimi Slavitt's three-year-old son is autistic, but if anyone told her, she wouldn't listen, because she doesn't want to know—until at last Danny's behavior becomes so strange even she can't ignore it. After her son's diagnosis Mimi finds herself in a world nearly as isolating as her son's. It is a world she shares only with mothers like herself, women chosen against their will for lives of sacrifice and martyrdom. Searching for miracles, begging for the help of heartless bureaucracies while arranging every minute of every day for children who can never be left alone, they exist in a state of perpetual crisis, normal life always just out of reach. In chapters told from Mimi's point of view and theirs, we meet these women, each a conflicted, complex character totally unsuited for sainthood and dreaming of the day she can just walk away.
Taking its title from the 1950s reality TV show in which the contestants, housewives living lives filled with pain and suffering, competed with each other for deluxe refrigerators and sets of stainless steel silverware, Queen for a Day portrays a group of imperfect women living under enormous pressure. Rosaler tells their story in ironic, precise and vivid prose, with dark humor and insight born of first-hand experience.
Praise For Queen for a Day…
"An engrossing and compassionate collection showing motherhood in its most unrelenting form." — Kirkus, starred review
"Maxine Rosaler's 'novel in stories' resembles Tim O'Brien's The Things They Carried, except rather than surviving an absurd and unjust war, the burden here is one of mothering an autistic child. Like O'Brien, Rosaler explores the mettle and morality of Mimi Slavitt on the 'battlefield of her existence'—as she seeks help for her son, and as her story is set off against other stories of different mothers with handicapped children. The failures of our institutions, especially schools, to confront special needs are one common minefield; and the dream of cures another. Rosaler continues throughout to plumb both Mimi's humanity and that of her son Danny . . . . In all, the writing is generously unsentimental, spiritually probing and filled with piercing intimacies." — DeWitt Henry, Founding Editor of Ploughshares, author of Sweet Marjoram: Notes and Essays
"Maxine Rosaler's novel in stories is sharply observant and deeply poignant, yet at times so darkly humorous that the reader will laugh out loud. Queen for a Day is unlike anything you've read before, and is absolutely unforgettable." — Marian Thurm, author of Today Is Not Your Day
"If you're looking for a heart-warming, inspirational account of saintly parents raising an autistic child, Queen for a Day isn't the book for you. Instead, what Maxine Rosaler offers us is the gut-heaving, throat-choking, darkly comic truth—about parenthood, marriage, love, rage, and hard-won survival. Here is life as it was actually lived in twentieth-century New York, in all its profane, crazy-making, transcendent glory." — Eileen Pollack, author of The Bible of Dirty Jokes
"Queen for a Day crackles with insight, energy, and New York City wit. Maxine Rosaler's novel in stories revolves around an odd sorority of mothers brought together—and sometimes apart—by their autistic children. Rosaler is both compassionate and wonderfully unsentimental in her portrayal of their fear and fury, longing and isolation. She is also really good at capturing the random bursts of connection so endemic to New York City street life, and her take on the Kafkaesque bureaucracy otherwise known as the Department of Education is hilarious. I loved this book and recommend it highly, not only to parents dealing with autism, but to anyone who enjoys gritty, funny, heartbreaking, and ultimately affirming stories of modern family life." — Eliza Factor, author of Strange Beauty
"These stories speak eloquently to the loneliness and isolation that can be an intrinsic part of raising a child with a disability. With unsentimental candor and edgy humor, Maxine Rosaler describes the surreal situations these mothers encounter, but she also reveals glimpses of the deep love and against all odds dreams these women have for their children." — Marianne Leone, author of Jesse: A Mother's Story
"Maxine Rosaler's stories are both hard-edged and comic, both laced with despair and hopeful against all expectation. New York City is the setting, a struggle to prosper in the face of bad choices and deeply ingrained perversity is the theme. Constant, however, is a narrative voice that proves irresistible, and a craftsman's approach to the construction of these contemporary parables." — C. Michael Curtis, Fiction Editor, The Atlantic
"Queen for a Day is a constellation of stories forming a vibrant novel about maternal love, its struggles, its ambivalence, and, ultimately, its persistence. Each is from the perspective of a mother in crisis, and each moves us in a profoundly different way. The stories shifting points of view create moments of dissonance and also of great empathy. Mothers who otherwise have nothing in common are brought together, often with sudden intimacy, through the challenges of their children. Queen for a Day poignantly evokes a maternal dance between denial and celebration." — Hilary Reyl, author of Kids Like Us
"I was both moved and impressed by this novel, and the intelligence and sympathy with which the author presents her afflicted characters." — Alison Lurie, Pulitzer-prize winning author of Foreign Affairs and The Language of Houses
"Queen for a Day is a compelling collection that explores the terror and denial parents experience when realizing their child is 'different' in linked stories that are tender, unflinchingly honest, and at times, chortle-out-loud funny. The book takes us on a journey from Danny's early years to his teen years, peopled with idiosyncratic characters and events (a doomed Bar Mitzvah party and an apple-picking expedition gone bad) that allow us to see Danny and his loving but star-crossed parents, Mimi and Jake, from a variety of perspectives. Maxine Rosaler deals with a difficult subject in deft and graceful prose that make everything from a trip to the doctor's office to wheeling a broken grocery cart down a NYC sidewalk feel like an adventure fraught with danger and wonder. I loved this book—read it in two sittings." — Garnett Kilberg Cohen, author of Swarm to Glory
"Maxine Rosaler lays bare the turmoil of raising and loving a special needs child while navigating fraught adult relationships and nightmarish bureaucracies. There are no saints or queens here, just real, aching women in all their complexity. These artfully linked stories are at once biting and tender." — Dawn Raffel, author of The Strange Case of Dr. Couney
"The stories in Maxine Rosaler's Queen for a Day are sharp and wonderfully off-kilter, filled with anguish and dark humor and a quiet, unmistakable pulse of hope. Rosaler's depiction of heartbreak and its flip side, fierce love, is unsparing and complex, and something to which we all can relate." — Ellen Umansky, author of The Fortunate Ones
"Everyone who has experienced the system of disability education, services, and healthcare has a story. With dark humor, irony, and compassion, Maxine Rosaler's Queen for a Day recognizes that there are many sides to a story. There are no heroes and villains here, but ordinary people trying to live on with the pettiness, routines, and fleeting victories of everyday life. Compelling and sharply written, this collection is a must-read for parents, educators, and service providers, as well as anyone who just loves a good story." — Rachel Adams, author of Raising Henry
"Maxine Rosaler makes Mimi's story come alive with humor, hard-won wisdom, and unflinching honesty. Queen for a Day is a closely observed, complex portrait of motherhood, where love and frustration, tenderness and bewilderment, are inextricably intertwined." — Caitlin Horrocks, Fiction Editor, The Kenyon Review
"Queen for a Day reminds us that in family life, the stakes are always high. At the center of this beguiling novel is Mimi Slavitt: manager of the Slavitts' modest income, frequent opponent of her husband, Jake, and mother to autistic Danny. Mimi is the best advocate that Danny could have: resourceful, fierce, and tenacious, with a voice that's larger than life." — Evelyn Somers, Associate Editor, The Missouri Review
"Queen for a Day is poignant and funny, the images startling, and the characters real. Rosaler's facility is with the narrative surprise, and the complex and conflicting emotions that reveal who we are. All throughout she exhibits an authority on her subject that carries us through from beginning to end in the confident hands of this capable storyteller." — Phong Nguyen, author of The Adventures of Joe Harper, and Fiction Editor, Pleiades
Delphinium, 9781883285753, 256pp.
Publication Date: June 5, 2018
About the Author
Maxine Rosaler's fiction and nonfiction have been published in The Southern Review, Glimmer Train, Witness, Fifth Wednesday, Green Mountains Review, The Baltimore Review and other literary magazines. She is the recipient of a New York Foundation for the Arts Fellowship for Fiction. Stories of hers have been cited in editions of Best American Short Stories and Best American Essays. She lives in New York City with her husband, Phillip Margulies.