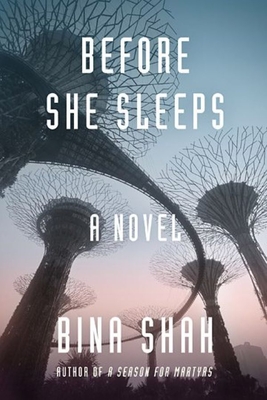 Before She Sleeps
Paperback

* Individual store prices may vary.
Other Editions of This Title:
Hardcover (8/7/2018)
MP3 CD (11/6/2018)
Description
In modern, beautiful Green City, the capital of South West Asia, gender selection, war and disease have brought the ratio of women to men to alarmingly low levels. The government uses terror and technology to control its people, and women must take multiple husbands to have more female children as quickly as possible.
Yet there are women who resist, women who live in the Panah, an underground collective and refuse to be part of the system. Secretly protected by the highest echelons of power, they emerge only at night, to provide to the rich and elite of Green City a type of commodity that nobody can buy: intimate, non-sexual companionship. In this city, exclusivity is the highest pleasure. But as it turns out, not even the most influential men can shield the women of the Panah from discovery and the dangers of ruthless punishment.
This dystopian novel from one of Pakistan's most talented writers is a modern-day parable: answering the The Handmaid's Tale with an explosive imagining of women's lives in repressive Middle Eastern and South Asian countries. It takes the patriarchal practices of female seclusion and veiling, gender selection, and control over women's bodies, amplifies and distorts them in a truly terrifying way to envision a world of post-religious authoritarianism over women's lives.
Praise For Before She Sleeps…
"Female-centered #Dystopia from #Pakistan: Before She Sleeps, Bina Shah. Fascinating new angle on 'emotional work'!"
— Margaret Atwood on Twitter

"A haunting, dystopian thriller… Fans of The Handmaid's Tale won't want to miss this one."
— Publishers Weekly, starred review

"An overdue enlargement of the cultural conversation that [The Handmaid's Tale] continues to provoke."
— Kirkus Reviews

"Charged and thrilling…exquisite…Shah develops her multiple characters beautifully…a thoughtful novel that will stick with me for a very long time."
— Los Angeles Times

"The most subtly disturbing of dystopias, richly textured and appallingly intimate, Before She Sleeps has hints of Huxley and Atwood but is uniquely Bina Shah."
— Nick Harkaway, author of Gnomon and The Gone-Away World

"Gripping, smart and dystopian in the most terrifying way, which is to say that it seems so very possible. Green City is the glossy, AI-powered, deeply misogynistic technocracy of our nightmares, which the free yet confined women of the Panah desperately struggle to defy."
— Molly Crabapple, author of Drawing Blood

"A timely novel of women's resistance and determination. ... Bina Shah has given us a welcome addition to the feminist dystopian thriller that expands the genre beyond a white-centric gaze. Women's stories and women's voices—in all our diversity—are important and Bina Shah's thriller is a necessary reminder."
— Mona Eltahawy, author of Headscarves and Hymens: Why the Middle East Needs a Sexual Revolution

"Shah's novel is both explicitly connected to Atwood's marvel [The Handmaid's Tale] and working to expand it by imagining what a secular, Middle Eastern Gilead might look like… One of the best books of the second half of 2018."
— The Millions

"Provocative."
— Syfy.com, One of the Best Books of the Summer

"Before She Sleeps stands on its own as a novel that will have readers contemplating rebellion and revolt, sex and power, and the many ways women's bodies are sacrificed for the good of society."
— Booklist
Delphinium, 9781883285807, 250pp.
Publication Date: August 13, 2019
About the Author
Bina Shah is a writer of English fiction and a journalist living in Karachi, Pakistan. She is the author of four novels and two collections of short stories, including Slum Child, which was a best seller in Italy. A regular contributor to the International New York Times, she is a provocative and bold commentator for the international press on Pakistan's society, culture, and women's rights. Her most recent novel, A Season for Martyrs, originally published by Delphinium in 2014, was published in France and India in 2016. She is a graduate of Wellesley College and the Harvard Graduate School of Education, and an alum of the International Writers Program at the University of Iowa.
or
Not Currently Available for Direct Purchase