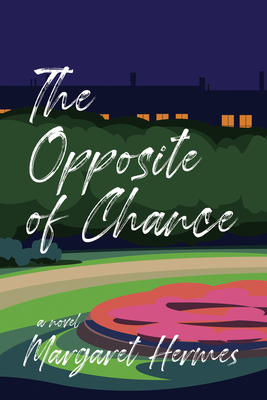 The Opposite of Chance
Hardcover

* Individual store prices may vary.
Other Editions of This Title:
Paperback (3/15/2022)
Description
At thirty-two, Betsy is sheltered. Sheltered by a close-knit family, Catholic schools, college in her hometown, and a marriage at 20. It takes the discovery of her husband's serial philandering to open her eyes and push her out of the nest. It's the summer of 1981, Betsy grabs a backpack and a few good books and puts distance—geographically and emotionally—between herself and the life she knew in the American Midwest. She begins to make her own decisions: about cities, hotels, and dinner entrées. At airports, on trains, and in pensiones, Betsy takes her first steps into independence as she negotiates the brief, but intense relationships travelers have. 
Armed with a book of travelers' phrases and a Swiss Army Knife, she brushes up against possibilities for connection, almost entering the life stories of the strangers she chances upon and whose paths we follow in alternating chapters. We become acquainted with a devout Muslim on a pilgrimage, a French financier raised on a rabbit farm, a lawyer on a solo honeymoon, a Pakistani gambler, a beguiling American threesome en route to Venice, an Italian hotel owner on Lake Como, and a passionate Irish protestor who literally carries her to safety from the streets of Dublin. Finally, back home, Betsy comes to the startling realization that her journey is only just beginning.
Praise For The Opposite of Chance…
Praise for Margaret Hermes: "Relative Strangers is a stunning collection. Every single story is vivid and memorable, and yet the collective thematic effect is powerful. So many of these characters are strangers within their own families and their own lives people thought to be dead are resurrected and another character s survival is akin to death. It s all here change, loss, alienation. But so is humor and compassion and a fresh spin on the way people deal with the most vulnerable aspects of life." — Jill McCorkle
"Wise and confident . . . an exquisitely talented writer." — Bob Shacochis, National Book Award-winning author of Easy in the Islands and Swimming in the Volcano
"A talented, versatile writer."  — David Carkeet, author of Double Negative and The Full Catastrophe
"Margaret Hermes writes of the sexuality of educated women with a candor and precision unseen since Kate Chopin." — Peter Leach, author of Gone By Sundown and Tales of Resistance
"Gives a reader something to enjoy and admire on every page." — Jane O. Wayne, Devins Award and the Society of Midland Authors Poetry Award-winning author of The Other Place You Live and Looking Both Ways
"Margaret Hermes writes with humor and wisdom about women who confuse sex for love and love for sex and cannot decide which one they prefer." — Mary Troy, author of Beauties and The Alibi Café
Delphinium, 9781883285951, 224pp.
Publication Date: March 16, 2021
About the Author
Margaret Hermes grew up in Chicago and lives in Saint Louis. Her short fiction collection, Relative Strangers, was the recipient of the Doris Bakwin Award. In addition to dozens of stories that have appeared in journals such as Fiction International, The Laurel Review, Confrontation, River Styx, and The Literary Review, and in anthologies such as 20 Over 40 and Under the Arch, her published and performed work includes a novel, The Phoenix Nest, and a stage adaptation of an Oscar Wilde fable. When not writing, she concentrates her energies on environmental issues.