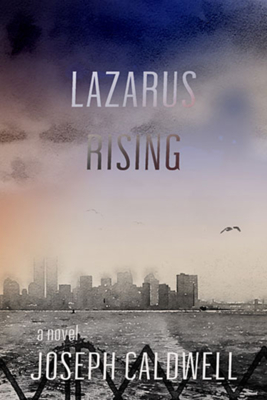 Lazarus Rising
A Novel
Hardcover

* Individual store prices may vary.
Description
This dark, propulsive novel, the crowning masterwork by the 92-year-old Caldwell, takes place during 1992, when AIDS was still an incurable scourge and death casualties were every day events. One cold winter night, when the artist, Dempsey Coates, is on the way home to her loft, she encounters a several alarm blaze, water jetting every which way from hydrants and ends up offering several fireman a place to get warm. One of them is Johnny Donegan, a passionate lad who falls madly in love with her and is determined, through prayer and sheer perseverance, to make a life with Dempsey that will be unimpeded by the specter of her illness. But when the couple is finally blessed with an unexpected stroke of good luck, this very twist of fate that promises an enduring future ends up coming between them in a very tragic and unforeseen way.
Praise For Lazarus Rising: A Novel…
Praise for In the Shadow of the Bridge: "A moving memoir and a look at gay and artistic life in New York City from the 1950s on, through the AIDS epidemic."
— NY Post, Best Books of the Week

"A tender memoir. [The] story of love and loss is told with earnestness and wit." 
— Publishers Weekly

"A rich, meditative memoir… a simultaneously tragic and uplifting story of enduring love."
— Kirkus Reviews

"Intoxicating… an intimate remembrance of gay things past… The book is a powerful testament to solidarity in the city of gay dreams."
— The New York Journal of Books

"In the Shadow of the Bridge is an extraordinary memoir in its frankness and simple style, and in its self-denigration, delivered with a wit and warmth most people would be unable to summon or maintain."
— WSHU (NPR Connecticut and Long Island)

"In telling the story of coming to NYC as a young man, grappling with his desire to be an artist, to be a man of faith, and his desire for the love of another man, Joseph Caldwell tells the story of a time and place—the story of a generation."
— A.M. Homes, author of May We Be Forgiven

"Joseph Caldwell's intimate portrait of gay life in New York City before Stonewall is an important addition to LGBTQ history. Caldwell is a compassionate and accomplished storyteller, and his memoir of a life well and fully lived is a book to treasure." 
— Peter Cameron, author of Someday This Pain Will Be Useful to You

"Caldwell's story and his writing are very moving and impactful. You go on a journey with Joseph that traces not only changes in New York but changes in society."
— Book Trib

"Caldwell's spare memoir recounts a life lived in the shadow of yearning."
— Lavender Magazine

"Caldwell shares his account with readers now in hopes that they see humanity. 'We're always learning about what it means to be human,' he says, and In the Shadow of the Bridge is a fine example of exactly that."
— Watermark

"At its core a love story. But this is a love story that is bittersweet as it comes to fruition in the shadow of the AIDS epidemic." 
— Poz Magazine

"A charming, brutally candid memoir… a memoir that chronicles the changing tide of artistic and gay life and a New York that no longer exists, as well as an important document of the early, harrowing years of the AIDS epidemic."
— Eerie Gay News
Delphinium, 9781883285999, 224pp.
Publication Date: December 1, 2020
About the Author
Joseph Caldwell is an acclaimed playwright and novelist who was awarded the Rome Prize for Literature by the American Academy of Arts and Letters. He is the author of five novels in addition to The Pig Trilogy, a humorous mystery series featuring a crime-solving pig. His most recent memoir, In the Shadow of the Bridge, was published by Delphinium in 2019. Caldwell lives in New York City.